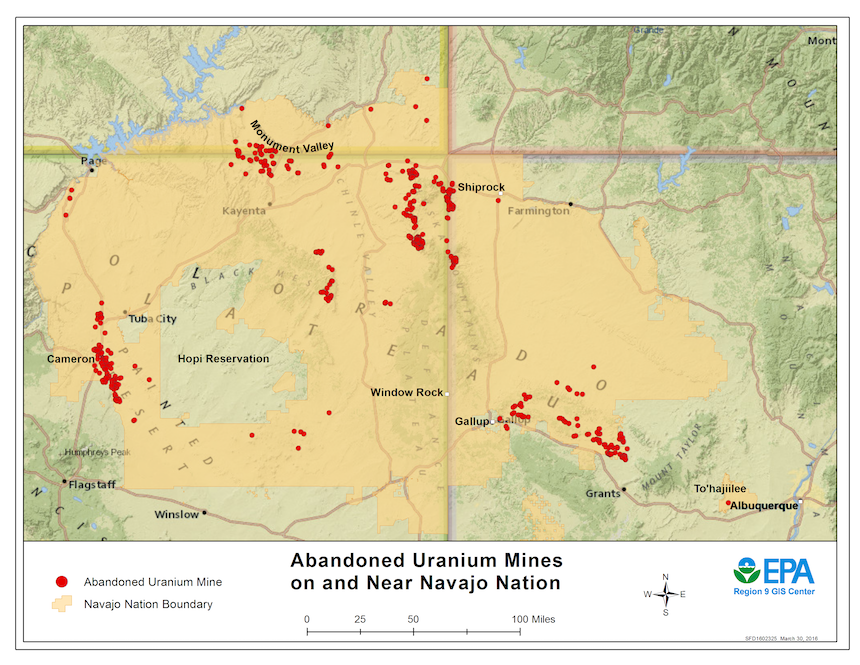 Yesterday, the U.S. Environmental Protection Agency awarded Tetra Tech Inc. the Navajo Area Abandoned Uranium Mines Response, Assessment, and Evaluation Services contract worth $85 million.
Tetra Tech will initially assess uranium contamination at thirty abandoned uranium mines in and around the Navajo Nation. The company will also partner with Navajo Technical University (NTU) and local businesses to train Navajo members in professional positions related to assessment and cleanup work. In addition, Tetra Tech has committed to procure services and supplies, whenever possible, from Navajo-owned businesses, helping boost the local economy and create jobs. Under the contract, Tetra Tech will regularly report the assessment, training and purchasing results to the agency, the Navajo Nation and the public.
"Along with selecting a company with strong technical and scientific capabilities, EPA aimed to ensure the contractor could employ Navajo members in professional positions," said Deborah Jordan, Acting Deputy Regional Administrator for the Pacific Southwest. "Tetra Tech's plan to train and employ Navajo members is an important aspect of EPA's commitment to support the local economy and clean up the legacy of uranium mining contamination in and around the Navajo Nation."
Tetra Tech developed a curriculum with Navajo Technical University to educate Navajo members in assessment and cleanup work. Under the contract, Tetra Tech will also start an internship program with NTU to give students hands-on, technical work experience. In addition, Tetra Tech has partnered with the Navajo Engineering and Construction Authority and iiná bá, two local Navajo firms, for engineering, assessment, environmental consulting and translation services.
During the Cold War, thirty million tons of uranium ore were mined on or adjacent to the Navajo Nation, leaving more than 500 abandoned mines. Since 2008, EPA has conducted preliminary investigations at all of the mines, remediated forty-nine contaminated structures, provided safe drinking water to 3,013 families in partnership with the Indian Health Service, and performed cleanup or stabilization work at nine mines. In total, EPA has reached enforcement agreements and settlements valued at $1.7 billion to reduce the highest risks of radiation exposure to the Navajo people from abandoned uranium mines. As a result, funding is now available to begin the assessment and cleanup process at 211 of the 523 abandoned uranium mines. Cleanup of the of abandoned uranium mines is a closely coordinated effort between federal agencies and the Navajo Nation.
A portion of funding for the contract comes from a $1 billion settlement reached in 2015 for the cleanup of over fifty abandoned uranium mines for which Kerr McGee Corporation and its successor, Tronox, have responsibility.