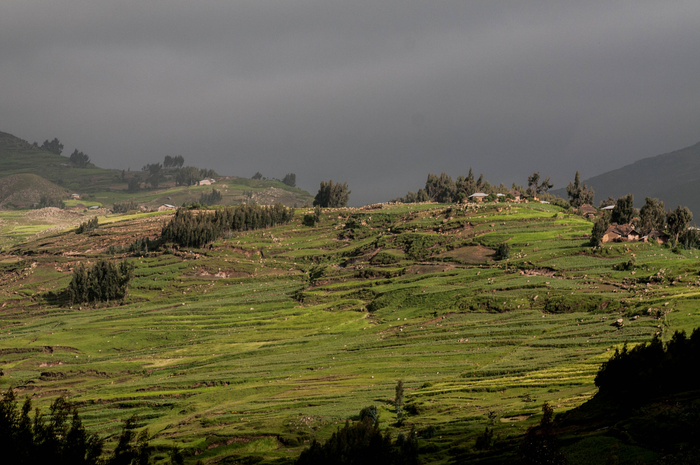 Restoration efforts hold unique potential for improving environmental outcomes and human wellbeing. They are the focus of the recently launched UN Decade on Ecosystem Restoration. Yet, ignoring the social dimensions of environmental initiatives is likely to fail to achieve ecological and other objectives. Neglecting social and people-centered restoration models can result in land grabs, conflict, and further marginalization of vulnerable groups, say authors of a new paper, "Ten people-centered rules for socially sustainable ecosystem restoration."
To achieve the Sustainable Development Goals, a shift towards restoration strategies that acknowledge complex social and cultural realities is critical. The authors challenge 'top-down' restoration approaches which fail to recognize the importance of humans in nature. The paper's 47 authors represent several nationalities, backgrounds and sectors, and are connected with restoration initiatives around the globe.
"Too often, social issues get relegated to the local level, rather than considering the human dimensions required for successful restoration, including issues of voice and legitimacy, in shaping global agendas," they say in the paper. They call for people-centered restoration efforts, pointing out that emphasis on 'engaging stakeholders' often fails to acknowledge underlying webs of power, as well as critical social, political and economic considerations that underpin restoration.
"Dealing with people in landscapes, each with their own interests in the resources they manage, is complex and a messy undertaking," explains leade author Marlène Elias, Senior Scientist at the Alliance of Bioversity International and CIAT. "The complexity is overwhelming for restorationists and often shuts action down. What we are trying to do is unpack these issues without being reductionist, including important dimensions that restoration initiatives must have on the radar for equitable and sustainable results."
The rules cover the need to recognize diversity among stakeholders; noting that building trust takes time and calls for deliberate effort and investment to actively engage communities as change agents, holding meetings in communities in local languages for example, rather than at administrative offices. They address the importance of collaboratively unpacking socio-historical trajectories to inform engagement and the need to strengthen resource tenure for marginalized groups and advance equity. The rules call for considering multiple benefits within ecosystems, including different cultural and social benefits, which are often difficult to quantify, monetize and trade.
"It's not about box-ticking, but about engaging people properly for successful results. One of the key things we highlight is that restoration is not just about economics but ultimately about people," said Stephanie Mansourian, a co-author and environmental consultant and Associate Researcher at the University of Geneva. "You could restore food security, or spiritual sites, or essential wood for construction. Communities can be compensated for ecosystem services like improving water quality but people will also protect trees or regenerate their ecosystem because they need the services. Restoration is about more than reductionist compensation initiatives. Typically, the social dimension is completely forgotten or limited to 'engaging or consulting' stakeholders in a superficial and generally inadequate manner. We examine what that means and how you do it properly."
The seventh rule deals with equitable distribution of costs, risks and benefits across the landscape. The eighth rule considers the importance of drawing on different types of evidence and knowledge to determine 'What qualifies as evidence?' and: 'Whose knowledge counts?' The ninth rule questions dominant discourses, such as ecosystem degradation. For example, blaming 'unsustainable' land-use practices, such as overgrazing, reveals little about the structures and contextual factors driving these processes, including policies, subsidies and marginalization. The final rule urges inclusive and holistic monitoring, evaluation and learning, enabling local people to decide what, how, and when to measure. It calls for the need to question who does the measuring, and to collect data responding to local concerns.
Developed as actionable guidance for practitioners, policymakers, and researchers among others, the rules follow a special issue in Ecological Restoration and apply equally to the restoration of marine ecosystems, lakes, wetlands, forests and other ecosystems. "We have decades of restoration initiatives that have not been sustainable because they looked for short-cuts," explained Ruth Meinzen-Dick, a co-author and Senior Research Fellow at the International Food Policy Research Institute. "And what we're saying is that inclusive and holistic planning –which recognizes diversity at every level – is what it's going to take for restoration to be sustainable in the long-term."