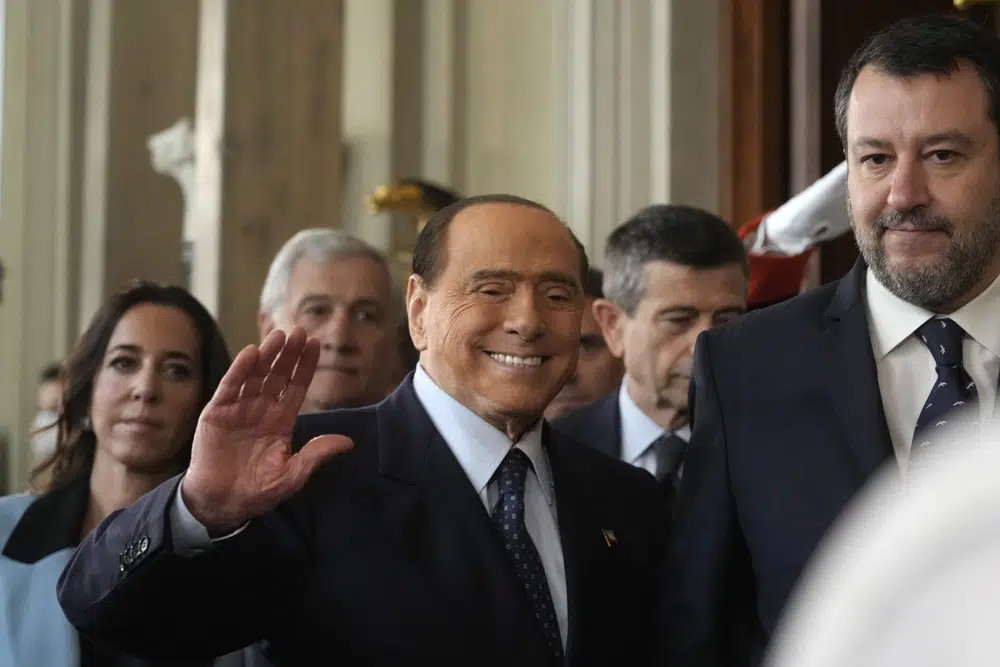 Former Italian Premier Silvio Berlusconi has blamed Ukraine's president for Russia's invasion, again putting him at odds with Premier Giorgia Meloni's support for Kyiv.
Berlusconi, whose party is part of Meloni's right-wing coalition government, is a long-time friend and ally of Russian President Vladimir Putin. He said the war in Ukraine "would have never happened" had Zelenskyy "ceased attacking the two autonomous republics of Donbass."
Berlusconi said he judged Zelenskyy's behavior "very, very negatively.″ He also criticized Meloni for meeting with Zelenskyy, telling reporters Sunday that he wouldn't have done the same if he were premier.
The comments drew a quick rebuttal from Meloni's office, which said that "the government's support for Ukraine is solid and unwavering." Her office said support for Ukraine is clear in both government policy and in parliament, manifesting itself in weapons deliveries to Ukrainian forces.
Meloni met with Zelenskyy on the sidelines of a summit in Brussels last week, and she plans to travel to Ukraine before the year anniversary of the war.
Meloni has previously warned Berlusconi over his friendship with Putin, and has asserted a strong pro-NATO, pro-European position on Russia's war in Ukraine. The last warning came after Berlusconi boasted of having re-established contact with Putin and exchanged gifts of vodka and wine on his 86th birthday in September.
In his latest remarks, Berlusconi said that U.S. President Joe Biden could help bring an end to the fighting by offering Zelenskyy trillions in dollars in rebuilding funds, similar to the Marshall Plan that rebuilt Europe after World War II.
"Only something like that will convince this gentleman to agree to a cease-fire,″ Berlusconi said.
– Colleen Barry, AP News