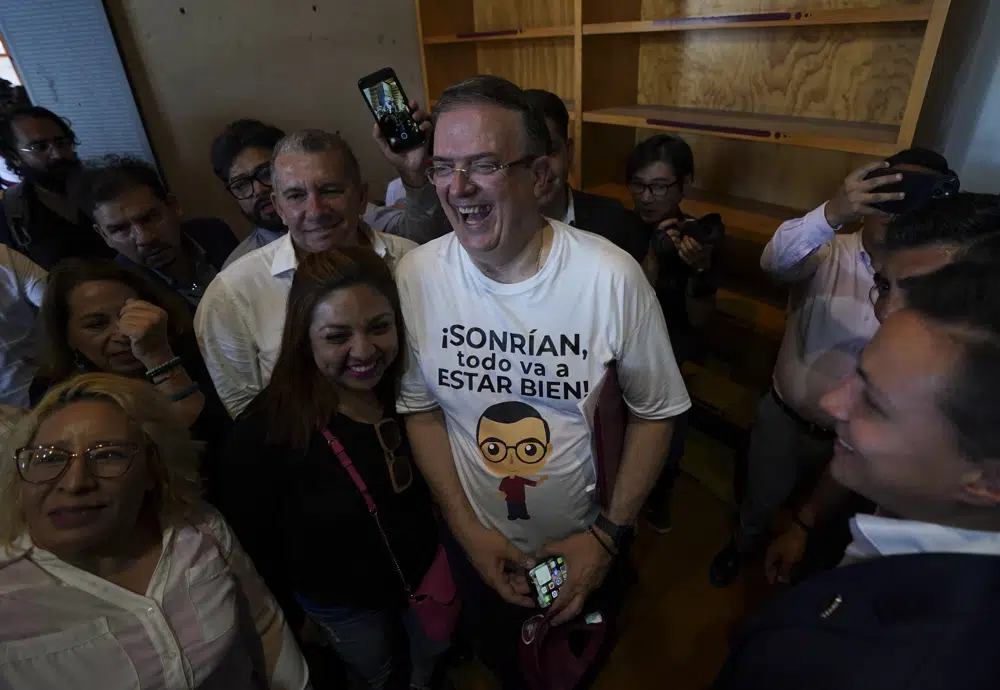 Mexico's top diplomat resigned his post Monday to enter the primary race for the country's 2024 presidential election, and Mexico City's mayor said she would resign Friday to do the same.
Foreign Relations Secretary Marcelo Ebrard said he resigned at noon and pledged to start a nationwide campaign tour.
Both Ebrard and Mexico City Mayor Claudia Sheinbaum belong to President Andrés Manuel López Obrador's Morena party, which will use polling to choose among four presidential contenders.
The two other hopefuls — Sen. Ricardo Monreal and Interior Secretary Adán López, who is not related to the president — are expected to resign or ask for leaves by the Friday deadline set by the Morena party. That is meant to prevent primary candidates from using their posts to gain an unfair advantage. Each can campaign throughout the summer.
Morena has come to dominate Mexican politics since López Obrador was elected in 2018. But the president cannot run for re-election and has promised to retire from politics after he leaves office in September 2024.
López Obrador's departure poses a problem for Morena, because the young party was entirely built around his personal popularity and has not become a cohesive force. Some members come from smaller left-leaning parties and some from the old ruling Institutional Revolutionary Party.
Ebrard said Monday that he would simply continue López Obrador's program, which the president refers to as the "fourth transformation" of Mexico. The term equates López Obrador's term with three other historic eras — Mexico's 1810-21 independence movement, the reform era of the 1850s and the 1910-1917 Mexican Revolution.
"Let's build the continuation, the next stage in the fourth transformation," Ebrard said.
Sheinbaum stressed that as a woman and a scientist, she would mark firsts if she became president.
"Mexicans are very much willing to have a woman president," she said.
Morena decided Sunday that a series of five polls will be conducted over the summer to decide the party's nomination for the presidential election on June 2, 2024.
The party is desperate to avoid splits and accusations of manipulated polls that marked its past primary races. Morena itself will conduct one poll, and each of the four presidential contenders will name private polling firms to carry out four more polls. Each will have equal weight.
The polling will be carried out nationwide between late August and early September. The winner will be announced Sept. 6. Any Mexican — not just Morena members — could be surveyed in the polls.
There will be no debates between the primary candidates, nor will governors, mayors, Cabinet members or the president be allowed to endorse a candidate during the primary.
Two allied parties, the Green and Labor parties, will also field one primary candidate apiece for the coalition's nomination.
While the party says López Obrador will not decide the nominee, the president's preference — and any indication of it, however slight — would likely be decisive.
– Fabiola Sánchez, AP News