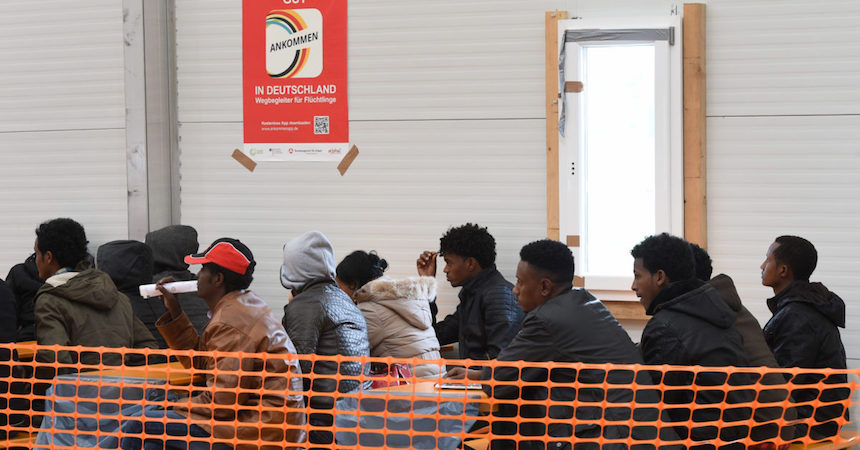 Critics in Germany say that the country's immigration agency has failed to use a language recognition software which would have helped immigration agents identify the country of origin of asylum-seekers who have no other ID documents.
The Frankfurter Allgemeine Zeitung reports that Federal Office for Migration and Refugees (BAMF) had the software available to it last year, but that the agency determined that using the software would run afoul of Germany's privacy and data protection laws.
Unnamed BAMF sources told FAZ that in 2016 the agency solicited proposals for language and dialect recognition software from German and Israeli IT firms in 2016, and that earlier this year conducted tests on several software solutions.
BAMF says that about 60 percent of asylum-seekers arrive in Germany without ID papers, and that it is difficult and time consuming to determine their country of origin. This often extends the process of deporting rejected asylum-seekers.
FAZ talked to experts who claimed the software could have helped to identify two men who applied for asylum and then carried out or planned attacks in Germany: Anis Amri, a Tunisian who used several different IDs, and who, in December, drove a truck into a Christmas market in Berlin. The second is Franco A., a far-right German soldier who receiving protected status in Germany by falsely presenting himself as a Syrian refugee, and then planned a "false flag" terrorist attack (see "Reforms in German army after neo-Nazi terror plot discovered," HSNW, 11 May 2017).
Israeli and U.S. intelligence agencies have been developing technology to identify different Arabic dialects for some time, and the German Interior Ministry toldDW that it was planning to test Arabic dialect recognition software in interviews with asylum-seekers.
The government's federal data protection commissioner's office told DW that the BAMF had not informed it of the details of the language recognition software, or how it would be used – and so could not comment further.
FAZ notes that the German government has been tightening regulations to allow closer surveillance of asylum-seekers, and that the Bundestag has recently approved a law to allow immigration authorities to search asylum-seekers' cellphones.
German agencies have also started collect biometric information from asylum-seekers in order to be able to compare images to a central European database.
This article is published courtesy of Homeland Security News Wire.