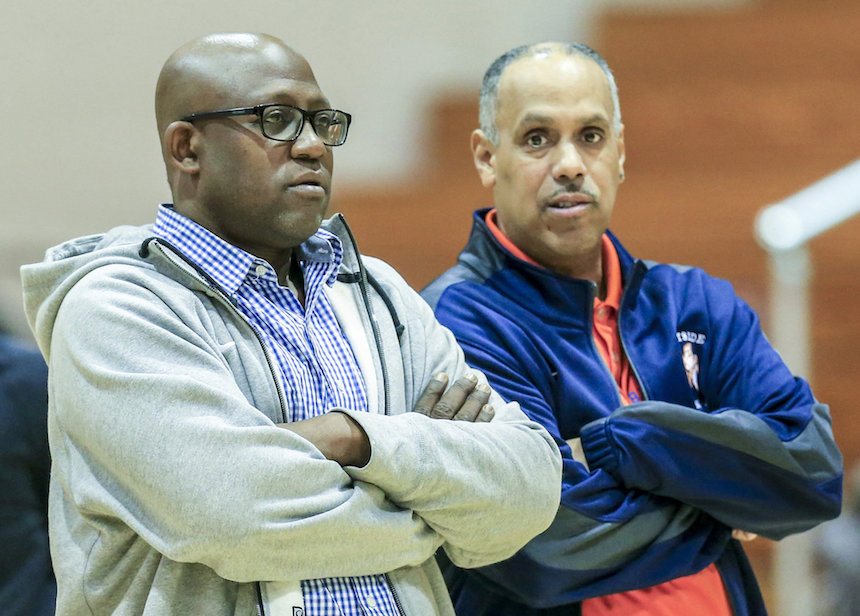 The basketball recruiting scandal at Paterson, New Jersey Eastside is going to occupy the headlines for a while yet.
More than a month ago, USA Today reported that the state criminal investigators were looking into recruiting improprieties at the school, and now federal immigration authorities have opened their own investigation.
Several people inside the district have told NJ.com that officials from New Jersey's Immigration and Customs Enforcement (ICE) office, a division of DHS, are looking at the pipeline of international players who fed the school's boys and girls basketball teams over the past six years.
NJ.com notes that ICE is focusing on how the players arrived in New Jersey, who facilitated their arrival, and when the process began.
ICE is one of a few agencies actively investigating the scandal. Other agencies include the state's Attorney General, the New Jersey State Interscholastic Athletic Association (NJSIAA), and the Division of Child Protection and Permanency.
The ICE inquiry began four months after NJ.com began publishing reports about the questionable recruiting practices at the Eastside boys and girls programs, practices which have been going on since at least 2011.
"This means the federal government understands there's human trafficking going on here," Charles Kuck, an Atlanta-based immigration attorney who has followed the Eastside case, told NJ.com. "This is nothing short of human trafficking.
"It might be disguised under the blanket of basketball players, but the reality is when you're bringing people from other parts of the world to the United States for purposes other than what are legitimate, you are committing human trafficking."
In April, following the publication of a 250-page report, previously suspended boys basketball coach Juan Griles was fired by the Paterson Board of Education along with assistant coach Alberto Maldonado. Also fired was athletic director Gregory Cooper, and the girls basketball coach Ray Lyde Jr. was suspended for at least one year. Secretary Patty Granados was also fired from her part-time work, while Eastside principal Karen Johnson decided to retire. There is no clear tie between Johnson's retirement and the report.
According to NJ.com, at least eight Eastside players have been brought to Paterson from Nigeria and Paraguay since 2011, with many living with coaches and others connected to the basketball programs in some form. This was done even though the district was unable to issue proper immigration documents for foreign students, which placed the athletes at risk of being deported.
Alvin Phillips, spokesman for ICE in New Jersey, told NJ.com he could not "confirm or deny an investigation into this matter."
"We take all allegations of abuse of our visa immigration system seriously," Phillips said. "We'll take proper procedures accordingly."
This article is published courtesy of Homeland Security News Wire.