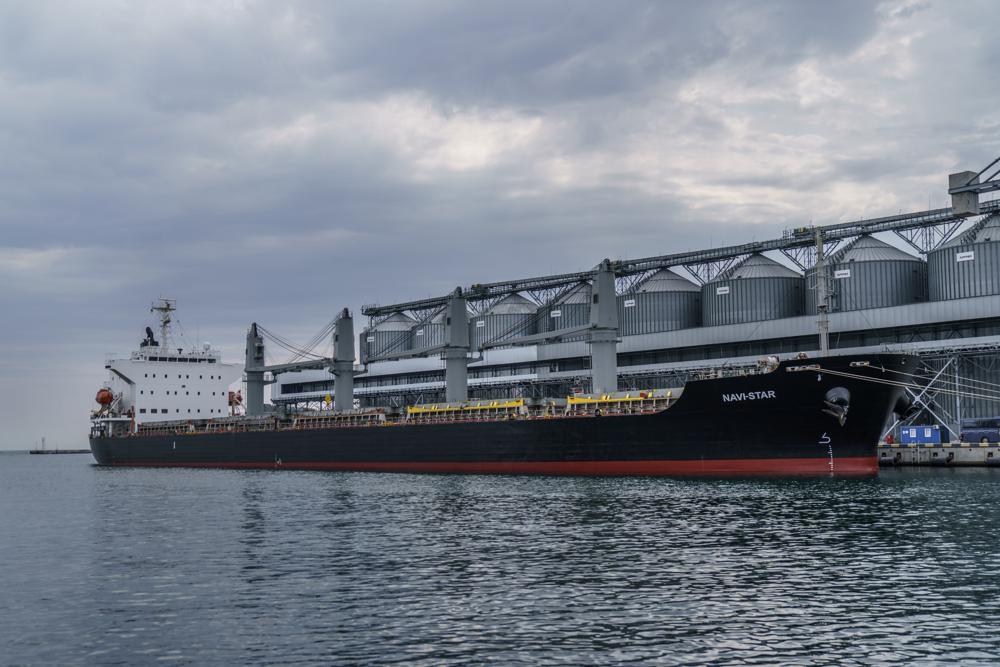 Russia resumed its blockade of Ukrainian ports on Sunday, cutting off urgently needed grain exports to hungry parts of the world in what U.S. President Joe Biden called a "really outrageous" act.
Biden warned that global hunger could increase because of Russia's suspension of a U.N.-brokered deal to allow safe passage of ships carrying grain from Ukraine, one of the world's breadbaskets.
"It's really outrageous," Biden said Saturday in Wilmington, Delaware. "There's no merit to what they're doing. The U.N. negotiated that deal and that should be the end of it."
Biden spoke hours after Russia announced it would immediately halt participation in the grain deal, alleging that Ukraine staged a drone attack Saturday against Russia's Black Sea Fleet off the coast of occupied Crimea. Ukraine has denied the attack, saying that Russia mishandled its own weapons.
Ukraine's Infrastructure Ministry reported Sunday that 218 ships involved in grain exports have been blocked — 22 loaded and stuck at ports, 95 loaded and departed from ports, and 101 awaiting inspections.
One of the blocked ships, carrying 40,000 tons of wheat for Ethiopia under a U.N. aid program, could not leave Ukraine on Sunday as a result of Russia's "blockage of the grain corridor," Oleksandr Kubrakov, Ukraine's minister of infrastructure, said on Twitter. The ship, Ikaria Angel, was stuck in the Black Sea port of Chornomorsk.
The Istanbul-based UN center coordinating the ship passages later said the Ikaria Angel was among six vessels that began moving out but hadn't yet entered a humanitarian corridor. The center reported on plans to move and inspect other ships on Monday but it wasn't clear whether Russia would agree.
The grain initiative — an example of rare wartime cooperation between Ukraine and Russia — has allowed more than 9 million tons of grain in 397 ships to safely leave Ukrainian ports since it was signed in July. U.N. chief António Guterres had urged Russia and Ukraine on Friday to renew the deal when it expires Nov. 19. The grain agreement has brought down global food prices about 15% from their peak in March, according to the U.N.
Ukrainian President Volodymyr Zelenskky expressed outrage at Russia's decision. Referring to the Ikaria Angel, he said in his nightly video address Sunday, "This bulk ship with wheat for the U.N. food program and other vessels with agricultural products are forced to wait, because Russia is blackmailing the world with hunger."
Two initiatives to revive the grain deal were reported Sunday.
Turkish Defense Minister Hulusi Akar was in talks with his counterparts to "solve the problem and to continue the grain initiative," his agency said, adding that no more grain ships would leave Ukraine but those already waiting near Istanbul would be inspected on Sunday or Monday.
At the United Nations in New York, Guterres delayed a trip by a day to engage in talks aimed at ending Russia's suspension of the grain export deal. Russia also requested a meeting Monday of the U.N. Security Council to discuss the topic.
Ukrainian exports of grain to developing countries
In July, the United Nations brokered an agreement between Ukraine and Russia to allow the export of grain. Chart shows export in millions of tons of grain before and after the agreement. Russia has suspended the agreement.