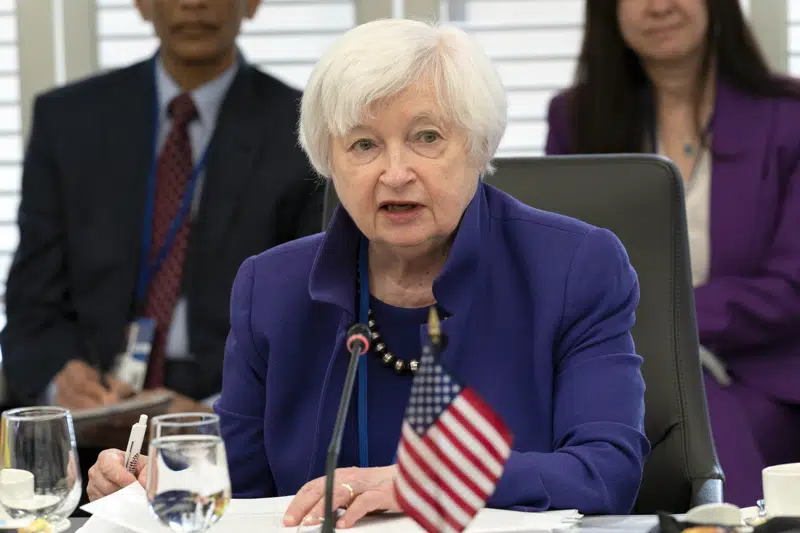 Treasury Secretary Janet Yellen will strike a conciliatory tone when she talks about U.S.-China relations on Thursday, calling for "cooperation on the urgent global challenges of our day" while supporting economic restrictions on China to advance U.S national security interests.
"We seek a healthy economic relationship with China: one that fosters growth and innovation in both countries," Yellen says in prepared remarks to be delivered at Johns Hopkins University's School of Advanced International Studies in Washington.
Yellen plans to deliver a speech that calls for improved relations between the two countries, which have seen increasingly strained relations after the discovery of a Chinese surveillance balloon in U.S. air space and since the Communist nation has grown its ties with Russia despite its continued invasion into Ukraine.
"A growing China that plays by international rules is good for the United States and the world," Yellen says. "Both countries can benefit from healthy competition in the economic sphere. But healthy economic competition — where both sides benefit — is only sustainable if that competition is fair."
The speech comes as tensions between the U.S. and China are at a fever pitch. The discovery of a surveillance balloon outfitted with high-tech equipment designed to gather sensitive information, making a pass over a sensitive U.S. military site, has drawn lawmakers' scrutiny.
And China's support of Russia as it continues to wage its war in Ukraine is causing concern among Western leaders. Though China has maintained that it is neutral in the conflict, stating that it won't sell weapons to either side in the war, it recently held joint military drills with Russia.
Yellen, in her speech, says U.S. national security "is of paramount importance" in the relationship with the People's Republic of China. "For example, we have made clear that safeguarding certain technologies from the PRC's military and security apparatus is of vital national interest," she says.
The U.S. last year moved to block exports of advanced computer chips to China, an action meant to quell China's ability to create advanced military systems including weapons of mass destruction, Commerce Department officials said last October.
Military exercises in Taiwan are also ratcheting up fears that China could invade the island. Earlier this month, China conducted large-scale combat exercises around Taiwan that simulated sealing off the island in response to the Taiwanese president's trip to the U.S. this month.
"We will secure our national security interests and those of our allies and partners, and we will protect human rights" Yellen says in her speech. "We will clearly communicate to the PRC our concerns about its behavior."
Yellen met with her Chinese counterpart, Vice Premier Liu He, in Zurich in January, which was the highest-ranking contact between the two countries since their respective presidents agreed last November during their first in-person meeting to look for areas of potential cooperation.
"It is important that we make progress on global issues regardless of our other disagreements," Yellen says. "That's what the world needs from its two largest economies."
– Fatima Hussein, AP News