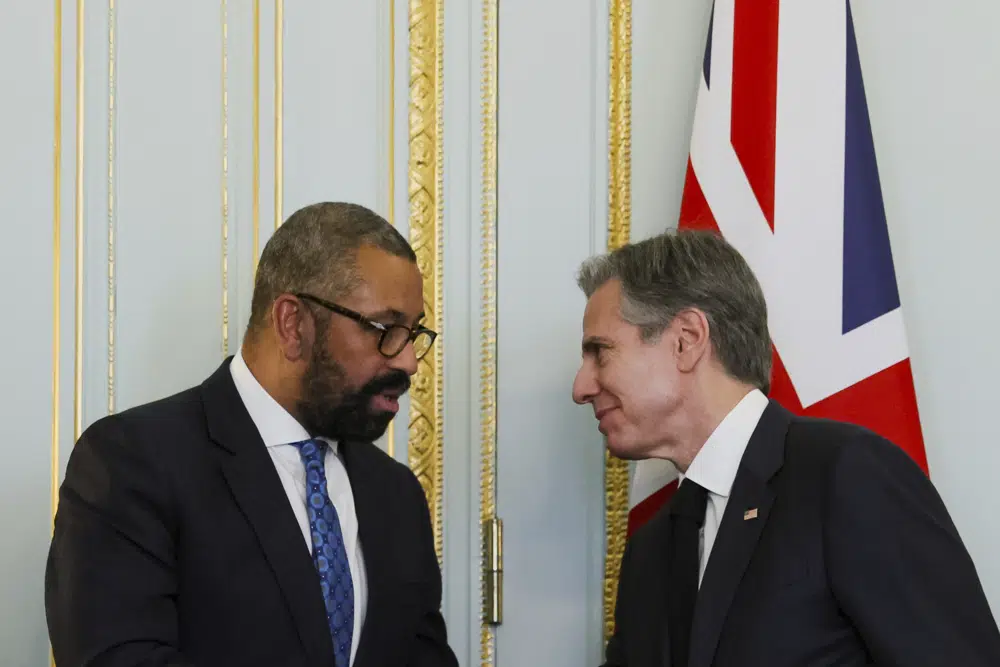 Diplomats from dozens of countries are meeting Wednesday in London to drum up funds to rebuild Ukraine, a mammoth task whose cost is estimated by the World Bank at more than $400 billion – a figure rising daily alongside the human toll of the 16-month war.
U.S. Secretary of State Antony Blinken is due to announce a new package of U.S. assistance at the Ukraine Recovery Conference, which is both a fundraising forum and a message to Russia that Ukraine's allies are in it for the long haul.
Blinken, U.K. Prime Minister Rishi Sunak and European Commission President Ursula von der Leyen are among international representatives at the gathering, which hopes to get big businesses to back Ukraine.
"(It's) very much about encouraging the private sector to invest in Ukraine's rebuilding and recovery," British Foreign Secretary James Cleverly said Tuesday. To do that, he said, "we need to demonstrate that those investments will be effective and that they will be safe" by underwriting Ukraine's long-term security.
It also means combating corruption, though Ukraine's Western allies aren't linking funding directly to curbing graft. Blinken said post-war Ukraine will need "the strongest possible economy, the strongest possibly democracy" in order to attract the investment it will urgently need.
"If Ukraine is going to attract the investment it needs, not just from government, not just from the international financial institutions but from the private sector, it has to build the best possible environment to attract that investment," Blinken said.
Politicians, diplomats and businesspeople from more than 60 countries are attending the two-day gathering, where BT, Virgin, Philips and Hyundai Engineering are among firms committing to invest in Ukraine.
The scale of the need is vast – many say Ukraine needs the equivalent of the Marshall Plan that helped rebuild Europe after World War II. Its infrastructure had been decimated by Russian attacks even before the collapse of the Kakhovka dam this month after an explosion flooded some 10,000 hectares (25,000 acres) of land and displaced thousands of people.
Sunak, who will open the conference with Ukrainian President Volodymyr Zelenskyy – expected to appear remotely – will call for investment in technology and green energy to help build "a financially stronger, technologically advanced Ukraine."
Britain is pledging 240 million pounds ($305 million) in aid and 3 billion pounds ($3.8 billion) in World Bank loan guarantees for Ukraine at the conference.
"As we've seen in Bakhmut and Mariupol, what Russia cannot take it will seek to destroy," Sunak said ahead of the conference. "They want to do the same to Ukraine's economy.
"The scale of the challenge is real, the war brought a 29% fall in Ukraine's GDP last year, but just look at the streets of Kyiv. Despite the threat of attack, people are getting on with their lives – and getting on with business."
The U.K. also hopes to make progress on setting up wartime risk insurance for firms investing in Ukraine, though it's unclear how advanced the plans are.
At last year's recovery conference in Switzerland, Ukraine called for billions in Russian assets frozen by Western countries since the invasion to be used for Ukraine's recovery.
That is still in the discussion phase, but Britain took a step in that direction this week, extending sanctions on Russia so that funds can be kept frozen until Ukraine gets compensation for the invasion.
Cleverly said there is a "natural justice" to the idea that Russia should have to pay.
"It follows that simple principle that you break it, you bought it," he said.
United Nations Development Program head Achim Steiner, the top U.N. official at the conference, said reconstruction could not wait until the war is over.
"Reconstruction is not something that lies in the distant future, even in the worst moments, even in the midst of a crisis," he said during a visit to Ukraine this month. "Sowing the seeds of recovery — that's why some of us say early recovery — but also reconstruction, is not only a physical response strategy, it's also a psychological one."
– Jill Lawless, AP News