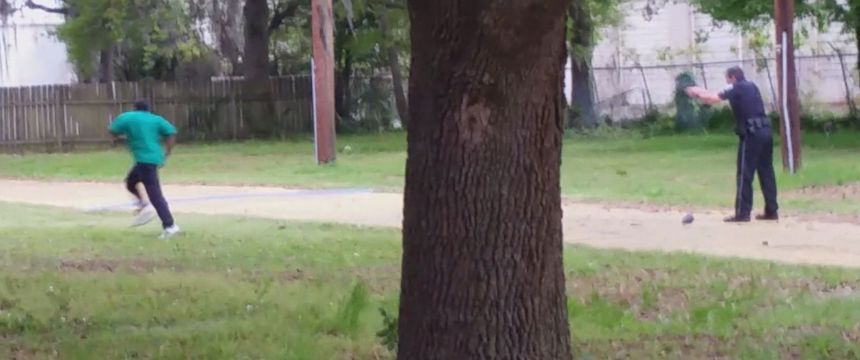 Former South Carolina police officer, Michael Slager, involved in the April 2015 shooting of Walter Scott, an African-American fifty-year-old unarmed motorist, pleaded guilty Tuesday to a federal civil rights charge, authorities said. Slager faced federal civil rights and state murder charges; pleading guilty to the federal civil rights charge of "using excessive force" – as his lawyer called it – was part of a deal to resolve both cases. "We hope that Michael's acceptance of responsibility will help the Scott family as they continue to grieve their loss," Slager's attorney, Andrew J. Savage, said in a statement. Slager's sentence, which could be life in prison and a fine of as much as $250,000 on civil rights charge, would be determined later.
Slager did not plead guilty to murder but to shooting Scott in the back several times – Scott's offense was driving a car with a broken taillight. Slager claimed Scott was able to seize his Taser after being stunned; this supposedly scared Slager and made him shoot Scott in self-defense. A Dallas-based top police misconduct investigator, Robert Taylor, said Slager's decision to shoot Scott was not a "split-second decision," which would have corroborated Slager's claim of acting under extreme fear. "There's a guy running away, the officer shoots at him eight times. It was one of the ugliest things I've reviewed," Taylor said. "It gave every police officer in the country a black eye, and you have to show communities that [police] can't do this." Also, the graphic footage of the shooting, captured on camera by a local barber, showed Scott was running away and was about 17 to 18 feet from Slager when he was shot. The video went viral in the news and on the internet, stimulating the debate about police brutality on African-Americans. Slager was fired immediately and was charged within days; the City of North Charleston reached a $6.5 million settlement with Scott's family.
Walter Scott shooting from The Post and Courier on Vimeo.
Ninth Circuit Solicitor Scarlett A. Wilson said she worked with Justice Department prosecutors to bring the state case against Slager because the "civil rights aspect of killing of Walter Scott has always been important to the Scott family, to our community and to our nation." She said collaboration with the Justice Department on the case produced justice in a "resolution that vindicates the State's interests," and that "recognizes the egregious violation of Mr. Scott's civil rights" as Slager is held accountable for deliberately and illegally killing Scott. "Now that Slager has pleaded guilty to a willful violation, admitted the facts we set out to prove and waived the right to appeal his conviction, a successive prosecution by the State is not necessary," she said, referring to the initial promise of the state to revisit the case after it was declared a mistrial late last year when a state jury could not come to a verdict on it.
Slager's plea marks the first major action of the Justice Department under Attorney General Jeff Sessions on alleged police misconduct, but discussions to reach a plea agreement with Slager were originally introduced by prosecutors in the Obama administration, The Washington Post reported. Former Sheriff of Graham County, Arizona, and founder of the Constitutional Sheriffs and Peace Officers Association, Richard Mack, said the deal reveals how elusive holding a police officer accountable for his actions without "a video for every step of the frame" has become. Sessions believes high-profile cases [like the killing of Scott] generate unfair criticisms of the police but he pledges his commitment to prosecute defaulting law officers. "The Department of Justice will hold accountable any law enforcement officer who violates the civil rights of our citizens by using excessive force," he said in a statement on Tuesday.