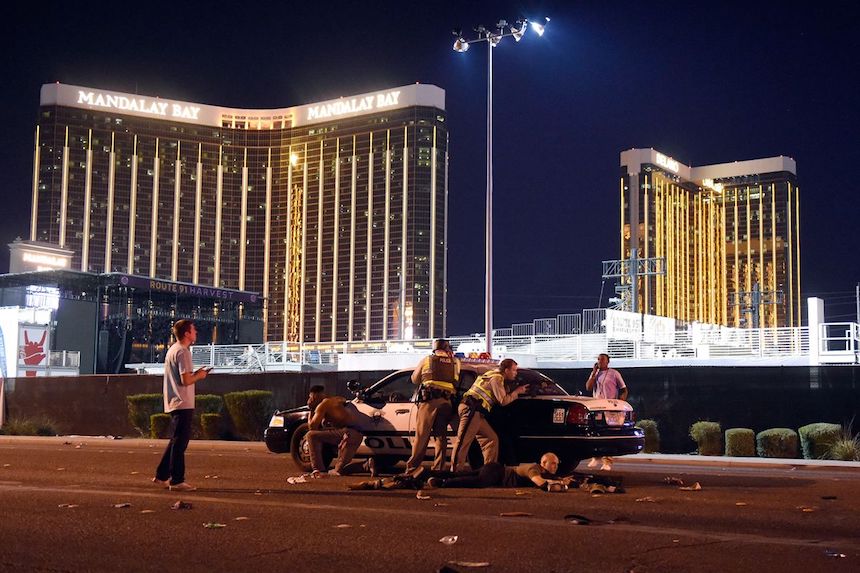 Radical jihadists directed or inspired by ISIS, al-Qaeda, or materials posted on the internet, pose a threat in the United States – and in Europe. Before Sunday's mass shooting in Las Vegas, the deadliest mass shooting in ISIS-inspired terrorist perpetrated acts of terrorism in England, France, Germany, Canada – and in several Asian countries.
Jennifer Williams writes in Vox that in the United States, the bigger threat has come from a different kind of attacker, one with no ties to religion – be it Islam or another religion.
Here is a partial list of attacks that have occurred since the beginning of 2017:
· Sunday night, a 64-year-old white man from Nevada opened fire on a crowd of more than 22,000 people at a country music festival in Las Vegas, killing 59 and wounding more than 500.
· In August, a 20-year-old white Nazi sympathizer from Ohio sped his car into a crowd of anti-racist protesters in Charlottesville, Virginia, killing a woman and injuring at least 19 others.
· In June, a 66-year-old white man from Illinois shot at Republican Congress members during an early morning baseball practice, severely wounding several people including Rep. Steve Scalise of Louisiana, the House of Representatives Majority Whip.
· In March 2017, a 28-year-old white man from Baltimore traveled to New York City with the explicit aim of killing black men. He stabbed 66-year-old Timothy Caughman to death and was charged with terrorism by New York state authorities.
· In May, a 35-year-old white man from Oregon named Jeremy Joseph Christian began harassing Muslim teenagers on a train in Portland, telling them "We need Americans here!" Two men interceded; Christian then stabbed and killed them both.
In fact, between 2001 and 2015, more Americans were killed by homegrown right-wing extremists than by Islamist terrorists, according to a study by New America, a nonpartisan think tank in Washington, D.C.[see Terrorism in America After 9/11 (New America, 2015); also see Arie Perliger, "Charlottesville attack shows homegrown terror on the right is on the rise," HSNW, 15 August 2017; and "Anti-government extremism most prevalent terrorist threat inside U.S.: Law enforcement," HSNW, 29 June 2015].
A June 2017 study by Reveal and the Center for Investigative Reporting found a similar pattern.
In Trump's very first speech to Congress, he claimed that "the vast majority of individuals convicted of terrorism and terrorism-related offenses since 9/11 came here from outside of our country."
But this claim is false, Williams notes. None of the perpetrators of the major U.S. terrorist attacks carried out in the name of Islam in the past fifteen years have come from the nations on Trump's travel ban (either the original one or the new, revised version that was released late last month). "In fact, the country home to the biggest number of terrorists who have carried out successful attacks inside the United States is the United States itself," she writes.
— The San Bernardino shooting, 14 killed: Carried out by an American-born U.S. citizen of Pakistani descent and a lawful permanent U.S. resident of Pakistani descent.
— The Orlando nightclub shooting, 49 killed, 59 injured: Carried by an American-born U.S. citizen of Afghan descent.
— The Boston marathon attack, 3 killed, scores injured: Carried out by ethnic Chechens who came to the United States as children from Kyrgyzstan and grew up in Cambridge, Massachusetts.
— Failed bombing attack on Times Square: Faisal Shahzad, the would-be bomber, was a Pakistani-American.
— Fort Hood shooting in 2009, 13 killed: Nidal Hassan, the shooter, was born in Virginia to Palestinian parents.
In June, writing in Vox about the administration's argument that its proposed travel ban and reduction in the number of refugees allowed into the United States are driven by security considerations, Zack Beauchamp noted that if we regard the 9/11 terrorists as "immigrants," than 98.6 percent of American killed by immigrant terrorists were killed in that single event. "Other than that, fatal immigrant-linked terrorist attacks in the United States were vanishingly rare — and ones linked to refugees specifically rarer still," Beauchamp writes.
Even including the 9/11 deaths, the average likelihood of an American being killed in a terrorist attack in which any kind of immigrant participated in any given year is one in 3.6 million.
"If you exclude the 9/11 attacks from this data, you're more likely to be killed by a lightning strike than a terrorist attack executed by foreigners — by a whole lot," Beauchamp writes.
But what about the likelihood of Americans being killed by refugees allowed into the United States, and then become terrorists? Alex Nowrasteh of the Cato Institute calculates that the odds of an American being killed by a refugee terrorist is one in 3.6 billion.
"Of the 3,252,493 refugees admitted from 1975 to the end of 2015, 20 were terrorists, which amounted to 0.00062 percent of the total," Nowrasteh writes. "Of the 20, only three were successful in their attacks, killing a total of three people."
In 2014, GOP lawmakers raised an alarm about ISIS followers smuggling themselves into the United States across the U.S. Mexican border to commit acts of terror. Nowrasteh examined that, too, looking to see how many unauthorized immigrants ended up becoming terrorists.
The answer: almost none.
"Only 10 [unauthorized] immigrants became terrorists, a minuscule 0.000038 percent of the 26.5 million who entered from 1975 through 2015," he writes. "Only one of those [unauthorized] immigrants, Ahmed Ajaj, actually succeeded in killing an American."
Williams writes that "The average American is more likely to die from their own clothing or a toddler with a gun than an immigrant terrorist. But we're not banning guns and T-shirts from coming into the country." "Adopting extremist views and committing horrendous acts of violence in the name of some "righteous"cause, be it religion or politics or just plain old hatred, isn't something that only Muslims, or Arabs, or immigrants, or any other group of people do. It's something humans do," she concludes.
The article published courtesy of Homeland Security News Wire.