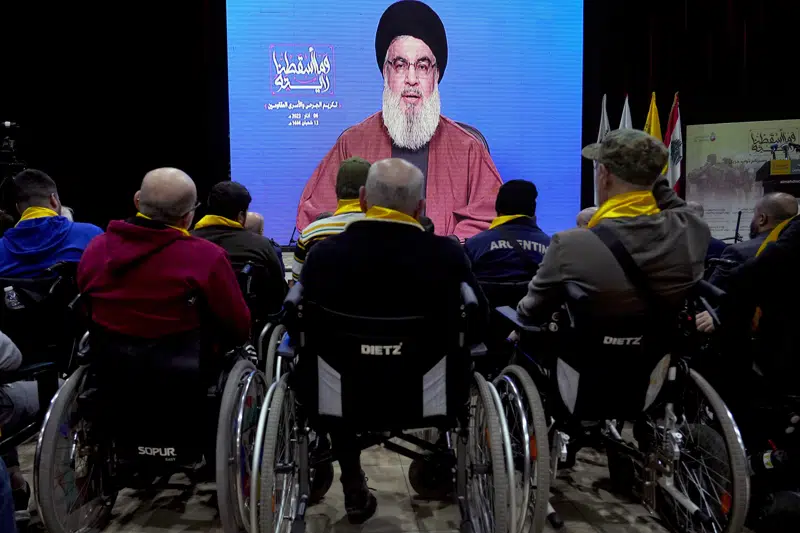 The leader of Lebanon's militant Hezbollah said Monday the group backs a former Cabinet minister and strong ally to become Lebanon's next president.
It was the first time that Sayyed Hassan Nasrallah openly named Sleiman Frangieh as the candidate they support to win the top post in the crisis-hit country. Despite Hezbollah's support, Frangieh still needs the backing of other blocs — support that could prove hard to get.
Frangieh, a Maronite Christian, does not have the backing of the largest Christian blocs in parliament and many in the Western-backed coalition oppose him because of his alliance with Hezbollah and his close personal friendship with Syrian President Bashar Assad.
Frangieh, 57, and army commander Gen. Joseph Aoun, are the top candidates for president. Hezbollah is believed to oppose the army chief's bid for president because he enjoys backing by the U.S.
Lebanon's deeply divided parliament has failed to elect a president during 11 sessions held since the term of President Michel Aoun, also a Hezbollah ally, ended in late October.
"The natural candidate that we back in the presidential elections and has the specifications that we take into consideration is minister Sleiman Frangieh," Nasrallah said in a speech during a rally honoring the group's wounded fighters. He reiterated that Hezbollah doesn't want a candidate who "stabs the resistance (Hezbollah) in the back."
Nasrallah said Hezbollah will not accept that foreign countries impose a president on Lebanon and will also not accept a foreign "veto" against any candidate, an apparent reference to Frangieh.
Nasrallah's announcement came days after Lebanon's Parliament Speaker Nabih Berri also said he backs Frangieh for president. Frangieh has not publicly announced he is running for office.
Despite the support of Hezbollah and Berri's Amal Movement, the two largest Shiite groups in the country, Frangieh will still need the backing of other parliamentary blocs as no coalition has a majority in the 128-seat legislature.
Frangieh said recently that his close alliances with Hezbollah and Assad's government give him an advantage against other candidates as he can speak with them to make concessions for the good of Lebanon.
According to Lebanon's power-sharing system, the president must be a Maronite Christian, the prime minister a Sunni Muslim and the parliament speaker a Shiite Muslim. The parliament and Cabinet seats are equally divided between Christians and Muslims.
Frangieh, the leader of the Marada Movement, hails from a well-known political family from northern Lebanon. His grandfather — the man whose name he carries — was a former Lebanese president. When he was 13, his father, Tony Frangieh, was killed along with his mother and sister in an infamous 1978 massacre perpetrated by rival Christian Maronite forces in the mountain resort of Ehden.
In 2018, Frangieh reconciled with Christian leader Samir Geagea who led the raid in Ehden but was seriously wounded and withdrew from the operation.
Geagea, whose Lebanese Forces Party has the largest bloc in parliament, is strongly opposed to Frangieh becoming president and vowed to do all he can to prevent him from obtaining the post.
– Bassem Mroue, AP News