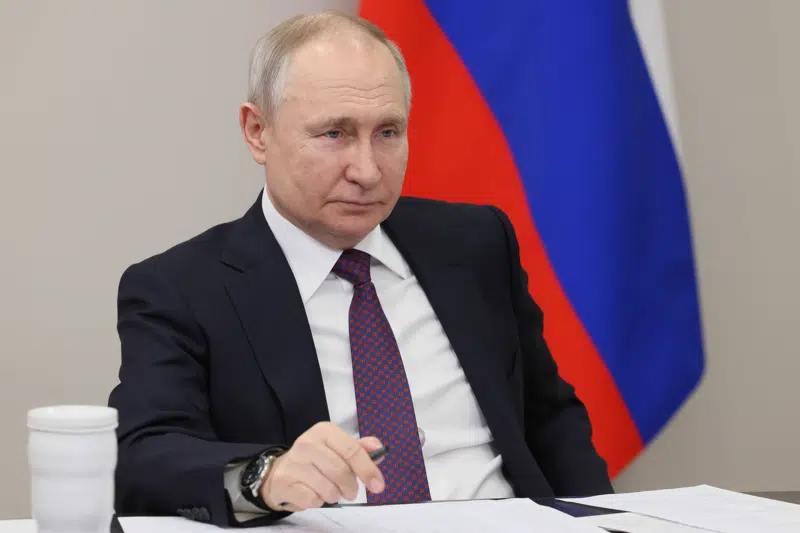 Russian President Vladimir Putin on Tuesday dismissed as "sheer nonsense" allegations that Ukrainians could be behind the blasts that damaged the Nord Stream gas pipelines in the Baltic Sea last year, and again pointed the finger at the U.S.
Putin spoke after The New York Times, The Washington Post and German media published stories last week citing unidentified U.S. and other officials as saying there was evidence Ukraine, or at least Ukrainians, may have been responsible. The Ukrainian government has denied involvement.
Germany's Die Zeit newspaper and German public broadcasters ARD and SWR reported that investigators believed five men and a woman used a yacht hired by a Ukrainian-owned company in Poland to carry out the attack. German federal prosecutors confirmed that a boat was searched in January but have not confirmed the reported findings.
Putin rejected the notion as "sheer nonsense."
"Such an explosion, so powerful and at such depth, could only be conducted by experts backed by the entire potential of a state that has relevant technologies," he said in televised remarks.
The Russian leader insisted that the U.S. had a motive to stage the explosion, saying it wanted to halt supplies of cheap Russian natural gas to Germany and to provide it with more expensive liquefied natural gas.
The Kremlin last week described the claims about Ukrainian involvement in the explosions as part of a cover-up by the West.
Putin on Tuesday poured scorn on European leaders for keeping quiet about the incident, charging that their attitude reflected what he described as Europe's subservient position in relation to the U.S.
"The Europeans have lost a gene of independence, sovereignty and national interest," Putin said with a smirk. "The more they hit them on their noses or the top of their heads the lower they bend and the broader they smile."
September's explosions that hit the Nord Stream 1 and Nord Stream 2 pipelines rendered them inoperable and caused significant leaks of gas that was idle in the pipelines. No one claimed responsibility.
U.S. officials initially suggested that Russia may have been to blame. Russia blamed the U.S. and Britain. Investigations by European nations, including Denmark, through whose waters the pipeline travels, and Germany have yet to yield conclusive results.
Putin voiced regret that Russia has been denied access to the materials of the probe. He added that the Russian Gazprom natural gas giant has sent a vessel to check the seabed near the explosion and spotted what appeared to be an antenna near a junction between the pipes about 30 kilometers (about 16 nautical miles) away from the explosion site.
Putin alleged that the purported antenna could have been put on the seabed to trigger another explosive device that didn't detonate for some reason that remains unclear, adding that Russia expects Danish authorities to form a joint team to thoroughly check the area.
– Vladimir Isachenkov, AP News