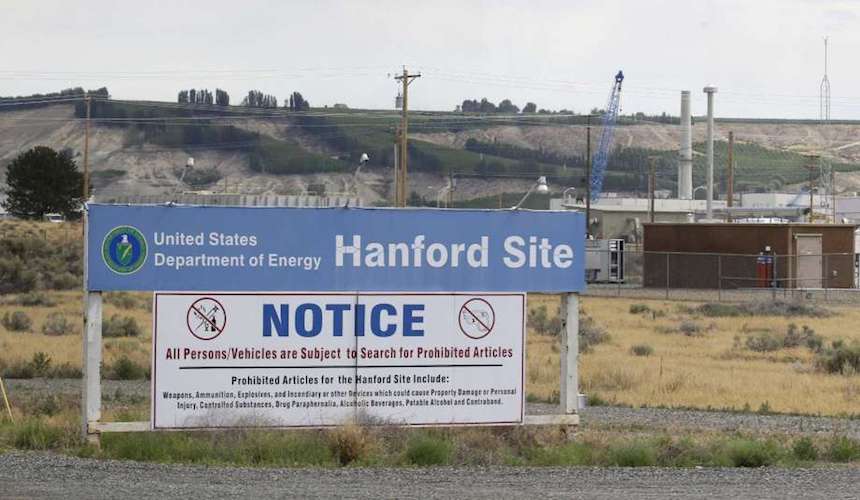 Hundreds of workers have been forced to "take cover" after a tunnel in a nuclear finishing plant collapsed at the Hanford Nuclear Reservation in southeastern Washington state.
Immediately after the collapse of the tunnel on Tuesday morning, a site manger sent a text message to workers instructing them to "secure ventilation in your building" and to "refrain from eating or drinking." ABC News reports that the Department of Energy activated its Emergency Operations Center following the collapse.
Some workers were told to evacuate the site while others were told to shelter-in-place.
The tunnel was used to store highly contaminated nuclear materials, including nuclear waste trains which are used to transport radioactive fuel rods.
A Washington State spokesman told ABC News that there were no reports of injuries, and that no radiation leaks were detected.
"The U.S. Department of Energy (DOE) Richland Operations Office activated the Hanford Emergency Operations Center at 8:26 a.m," the Department of Energy said in a statement. "There are concerns about subsidence in the soil covering railroad tunnels near a former chemical processing facility. The tunnels contain contaminated materials."
The Hanford nuclear site is a former plutonium production site. The plutonium was used to build the U.S. nuclear arsenal. Large quantities of nuclear waste have accumulated at the Hanford site, and DOE recently hired a private contractor to work on a $110 billion project to clean up some 56 million gallons of chemical and nuclear waste, currently stored in as many as 177 aging underground tanks there.
ABC News notes that the aging tanks – some of them more than 50-years old — were beginning to leak toxic and radioactive vapors and chemicals. Last year, at least sixty-one site employees were exposed to these deadly leaks.
Nuclear experts have criticized to storage and safety practices at the site, calling it "the most toxic place in America" and saying it was "an underground Chernobyl waiting to happen."
This article is published courtesy of Homeland Security News Wire.