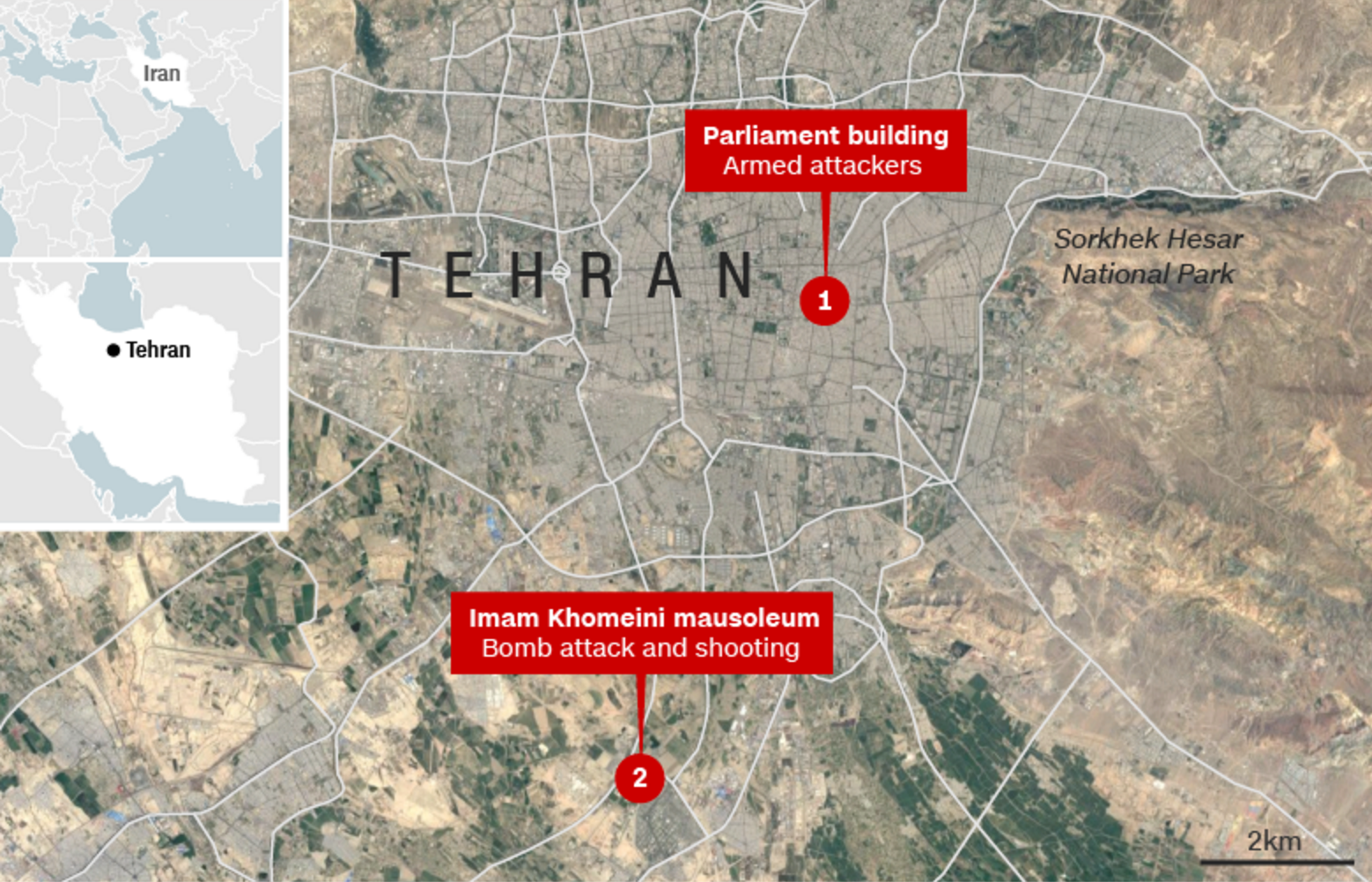 At least twelve people have been killed and dozens more injured in Tehran, in two-pronged suicide bomb and gun assaults – one on the Iranian parliament and the other on the mausoleum of the founder of the Islamic Republic.
ISIS has claimed responsibility for the two attacks. This is the first terrorist act by ISIS inside Iran.
Al Jazeera reports that the parliament assault began when four gunmen armed with rifles burst into the building complex. One of the attackers blew himself up inside as police was gathering around the building.
The other three terrorists exchanged fire with the police for about five hours, until they were killed.
Police helicopters hovering over the building also fired at the assailants.
The business of parliament continued, however, with MPs scheduling sessions in another part of the complex. Police sources said that the attackers were dressed as women in order to gain entry into the compound.
About half an hour after the assault on the parliament began, a suicide bomber detonated his bomb at the mausoleum of Ayatollah Ruhollah Khomeini, who established the Islamic Republic after deposing the Shah in 1979.
The mausoleum is located about twelve miles south of the parliament building.
The suicide bomber was accompanied by another terrorist, who opened fire on visitors at the site – but he was quickly shot dead by police.
In all, twelve people were killed and forty-two wounded in the two attacks.
Al Jazeerawas told by Iranian intelligence sources that a third team of terrorists had been arrested before carrying out a planned attack.
Analysts note that terrorist attacks are rare in Iran's big cities, but that during the past ten years or so, two Sunni militant groups — Jundallah and its splinter group, Ansar al Furqan — have been conducting a deadly insurgency campaign in more remote areas of the country.
Reporting from Homeland Security News Wire