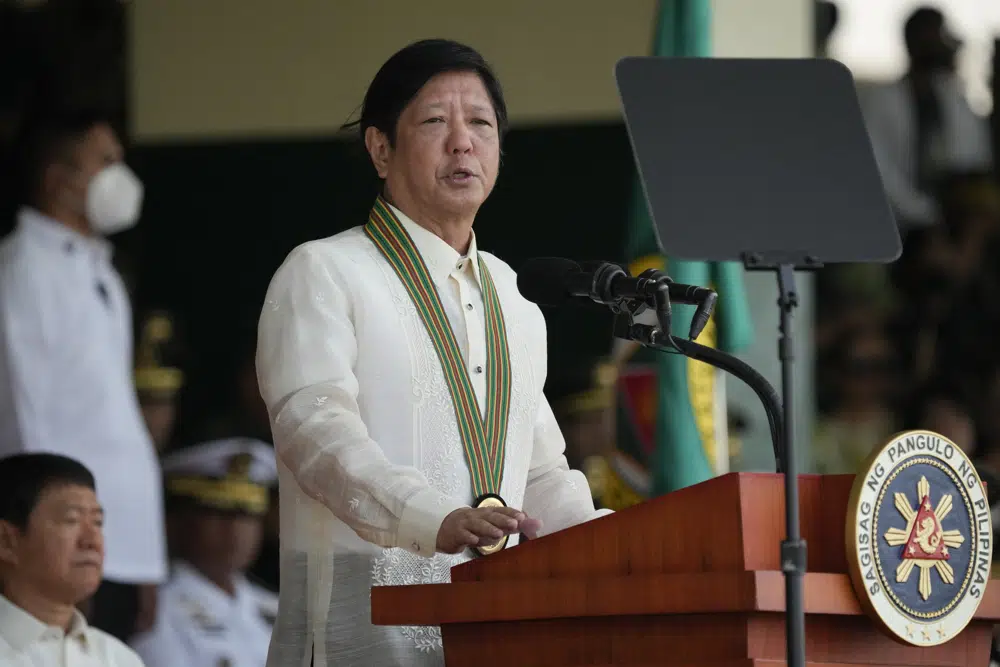 President Ferdinand Marcos Jr. on Wednesday defended his decision to allow a larger United States military presence in the country as vital to territorial defense despite China's fierce opposition and warning that it would "drag the Philippines into the abyss of geopolitical strife."
The Marcos administration announced in early February that it would allow rotating batches of American forces to indefinitely stay in four more Philippine military camps in addition to five local bases earlier designated under a 2014 defense pact of the longtime treaty allies.
Marcos said the four new sites would be announced soon and they include areas in the northern Philippines. That location has infuriated Chinese officials because it would provide U.S. forces a staging ground close to southern China and Taiwan.
The Biden administration has been strengthening an arc of military alliances in the Indo-Pacific to better counter China, including in any future confrontation over Taiwan. America's moves dovetail with Philippine efforts to shore up its territorial defense amid a long-seething dispute mainly with China in the South China Sea.
Aside from the northern and southern Philippines, Marcos told a news conference that under the Enhanced Defense Cooperation Agreement, U.S. forces would also be allowed to stay in western Palawan province, which faces the South China Sea. He underscored the moves were meant to boost the country's coastal defense and added in reply to a question that opposition to the U.S. military presence by some local Filipino officials had been overcome.
"We explained to them why it was important that we have that and why it will actually be good for their province," Marcos said, adding most of those who had objections had come around "to support the idea of an EDCA site in their province."
Governor Manuel Mamba of northern Cagayan province, where American forces may be allowed to stay with their weapons in up to two Philippine military areas, said Marcos has the prerogative to make the decision. But added he remained opposed to allowing the Americans to base in Cagayan, which lies across a sea border from southern China and Taiwan, because that could turn his province into a key target of the Chinese military if an armed conflict involving the U.S. military breaks out over Taiwan.
"It is the president's call, not mine," Mamba told The Associated Press. "But I maintain my stand against any foreign forces stationed in my province. Still, I am against EDCA sites in my province."
Marcos spoke to reporters after delivering a speech at an army anniversary ceremony where he asked troops to prepare to face potential external threats after a half-century battle against communist rebels that he said "is coming to an end."
"The army must always be fully prepared and capable for any contingencies, especially considering you are the country's last line of defense against any external security threat," he said.
U.S. and Philippine officials have said that American-funded construction of barracks, warehouses and other structures to be used by U.S. forces would generate much-needed local jobs and boost the economy. The U.S. presence would help the Philippines respond to natural disasters, enhance combat-readiness and help deter Chinese aggression in Asia.
China, however, has repeatedly accused Washington of taking steps to contain it militarily and of driving a wedge between Beijing and its Asian neighbors like the Philippines.
"Creating economic opportunities and jobs through military cooperation is tantamount to quenching thirst with poison and gouging flesh to heal wounds," the Chinese embassy in Manila said in a recent statement. "Such cooperation will seriously endanger regional peace and stability and drag the Philippines into the abyss of geopolitical strife and damage its economic development at the end of the day."
U.S. forces have intensified and broadened joint training, focusing on combat readiness and disaster response with Filipino troops on the nation's western coast, which faces the disputed South China Sea, and in its northern Luzon region across the sea from the Taiwan Strait.
Next month, the allied forces are to hold their largest combat exercise, called Balikatan — Tagalog for shoulder-to-shoulder — which will include live-fire drills. One planned maneuver involves U.S. and Philippine forces firing rockets to sink a mock enemy ship in waters facing the South China Sea, the Philippine military said.
If the ship-sinking exercise proceeds as planned, it would likely draw an angry reaction from China, which claims the strategic waterway virtually in its entirety and has repeatedly warned Washington to stop meddling in what Beijing says is a purely Asian dispute.
– Jim Gomez, AP News