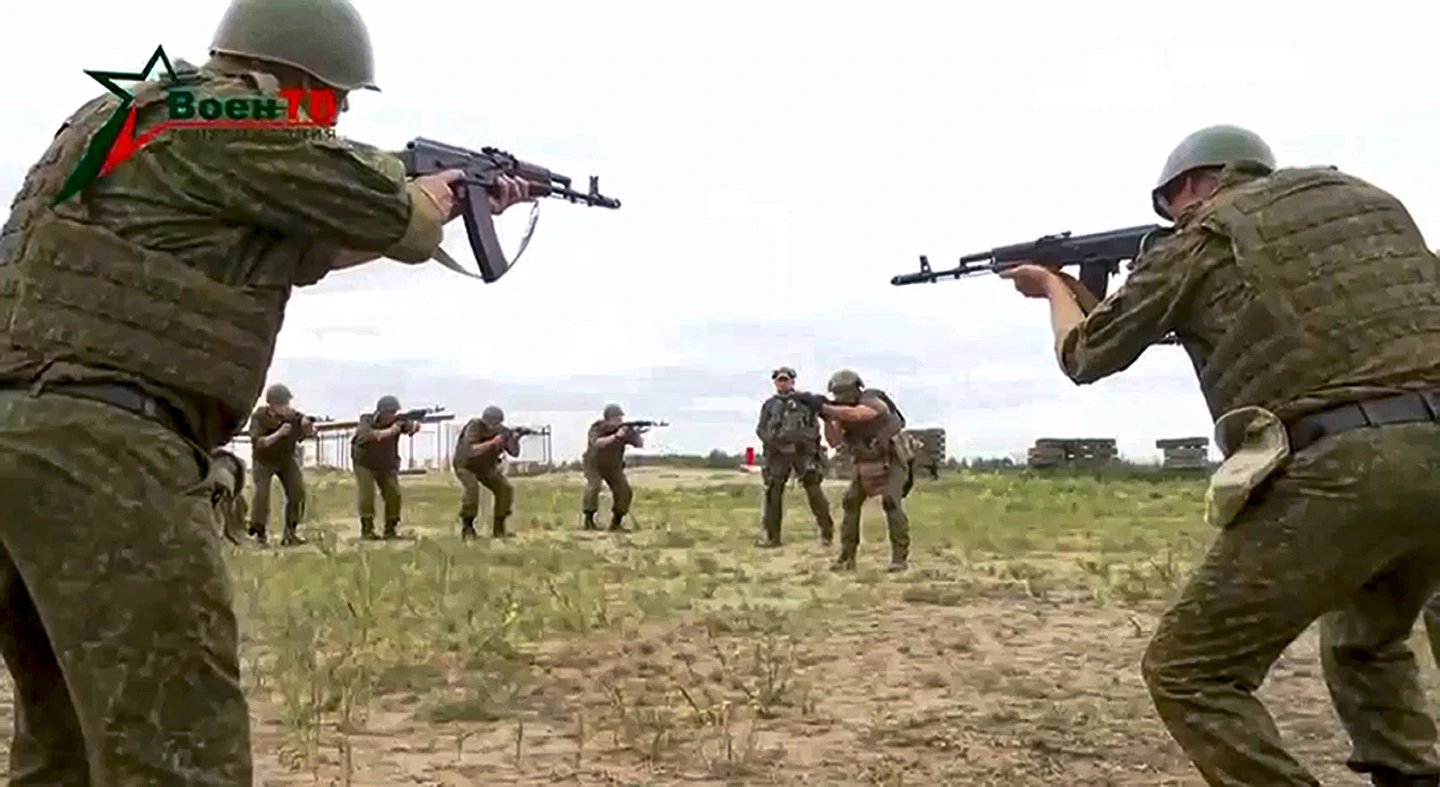 More mercenaries from Russia's Wagner military contractor rolled into Belarus on Monday, a monitoring group said, continuing their relocation to the ex-Soviet nation following last month's short-lived mutiny.
Belaruski Hajun, a Belarusian activist group that monitors troops movements in Belarus, said that a convoy of about 20 vehicles carrying Russian flags and Wagner insignia entered the country, heading toward a field camp that Belarusian authorities had offered to the company.
The group said it was a third Wagner convoy entering the country since last week.
Belarusian President Alexander Lukashenko, who brokered a deal that ended last month's rebellion launched by Wagner chief Yevgeny Prigozhin, has said that his country's military could benefit from the mercenaries' combat experience.
On Friday, Belarusian state TV broadcast video of Wagner instructors training Belarusian territorial defense forces at a firing range in the Asipovichy region, where a camp offered to Wagne r is located.
A Belarusian messaging app channel alleged last week that Prigozhin spent a night at the camp near Tsel, about 90 kilometers (about 55 miles) southeast of Minsk, and posted a photo of him in a tent.
In the revolt that started on June 23 and lasted less than 24 hours, Prigozhin's mercenaries quickly swept through the southern Russian city of Rostov-on-Don and captured the military headquarters there without firing a shot, before driving to within about 200 kilometers (125 miles) of Moscow. Prigozhin called it a "march of justice" to oust Defense Minister Sergei Shoigu and General Staff chief Gen. Valery Gerasimov, who demanded that Wagner sign contracts with the Defense Ministry.
The mutiny faced little resistance and the mercenaries downed at least six military helicopters and a command post aircraft, killing at least 10 airmen. Prigozhin ordered his troops back to their camps after striking a deal to end the rebellion in exchange for an amnesty for him and his men, and permission to move to Belarus. The terms of the deal and Prigozhin's fate have remained murky.
The Belarusian Defense Ministry didn't say how many Wagner troops were in Belarus. Lukashenko has previously said it was up to Prigozhin and Moscow to decide on a move to Belarus. The Kremlin has refrained from comment.