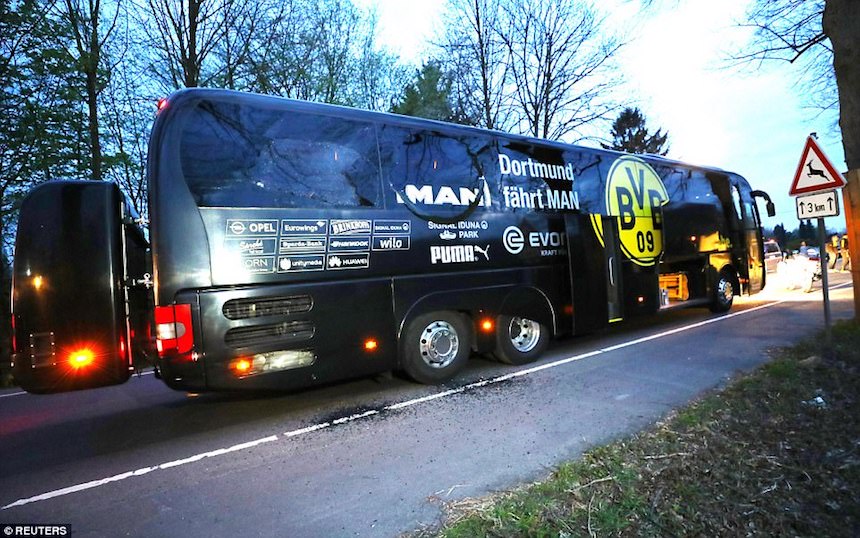 An Islamist suspect has been arrested by the German police, and a second one is being sought, over three explosions which yesterday rocked the team bus of Borussia Dortmund football club. The bus was hit while on its way to the Signal Iduna Park stadium for a European Championship League quarter-final game against the Monaco football club.
German prosecutors said they were examining a possible "terrorist link."
The BBC quotes the investigators to say that two Islamic extremists are the focus of the attack probe, and that one has been detained following searches of their apartments.
The assailants left a letter at the scene of the attack, which, "in the name of Allah," claims responsibility and reportedly referring to the Christmas terrorist attack in Berlin.
The letter also mentioned Chancellor Angela Merkel, and mentioned Germany's deployment of Tornado reconnaissance missions as part of an international coalition battling Islamic State of Iraq and the Levant (Isil), according to local media.
"Two suspects from the Islamist spectrum have become the focus of our investigation, said lead prosecutor Frauke Koehle on Wednesday afternoon. "Both of their apartments were searched, and one of the two has been detained."
The assailants planted three devices, studded with metal pins, in a hedge right next to the rout the bus was taking on its way to the soccer stadium.
A few of the team bus's windows were shattered by the explosions, but the only one injured was Marc Barta, Dortmund's 26-year old Spanish right back, who suffered lacerations to his right arm and a broken left wrist. He was treated in a local hospital and sent home.
Merkel's spokesperson said the chancellor was "appalled" by the blasts, and that the German government was doing "everything possible" to track down the perpetrators.
The game was rescheduled for Wednesday evening, and will be held under heavy security.
The German media offered many stories of Monaco fans who were invited by Dortmund's fans to spend the night at their homes. Three Dortmund hotels gave their available rooms for free to stranded Monaco fans.