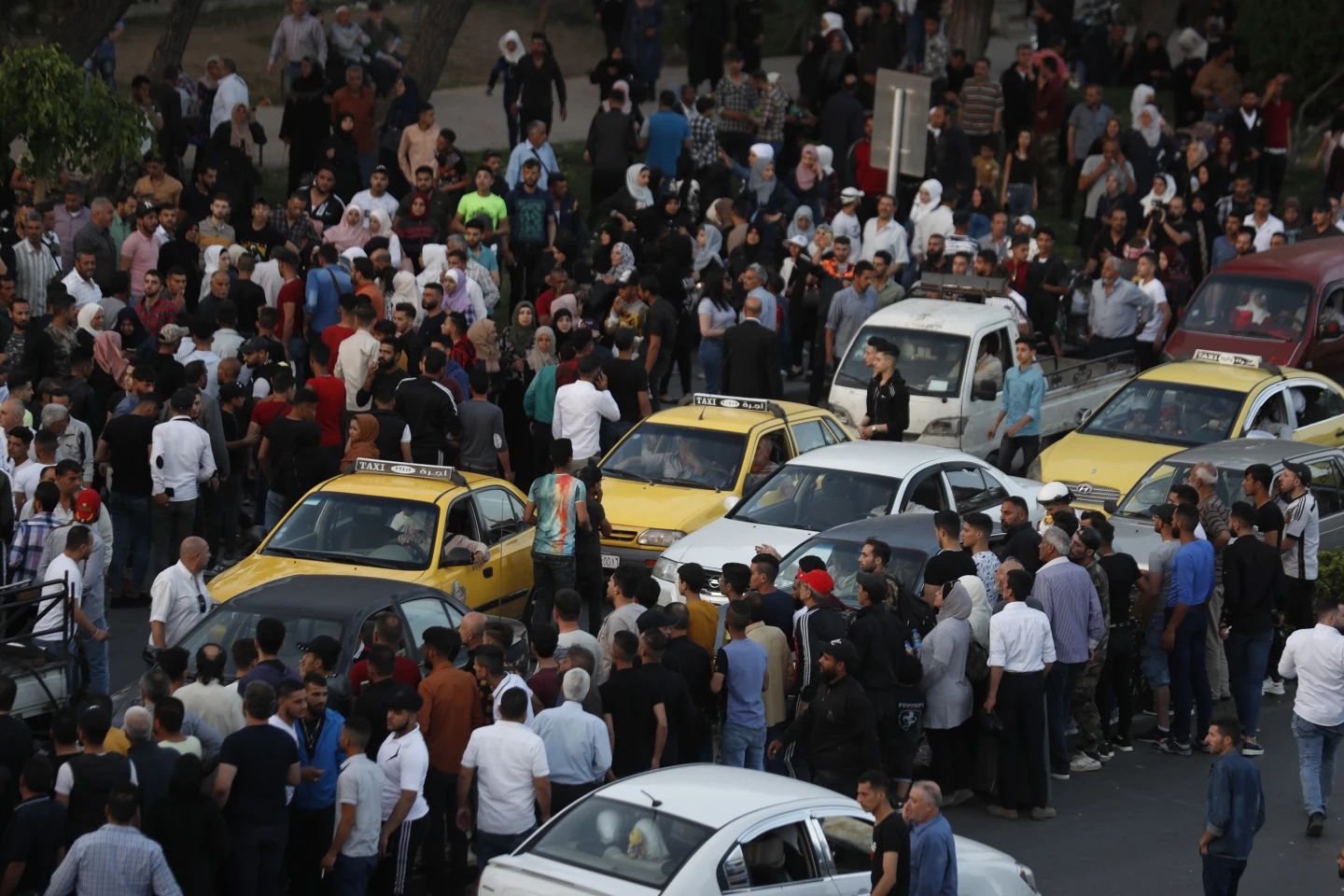 In her small apartment in opposition-held Idlib in northwest Syria, Umm Mohammed is depressed and lethargic. But when her phone rings or someone knocks on the door she becomes suddenly alert. Maybe, finally, her husband has come back.
In 2013, Syrian soldiers broke into the couple's home in Damascus as they were having breakfast, she said. She and her husband had previously taken part in anti-government protests.
"They beat him up in front of my young daughter" and then took him away, said Umm Mohammed, or "mother of Mohammed," the name of her oldest son. She did not want to give her own full name for fear the authorities would harm her husband if he is still alive.
The only news she has received about him since that day came in 2015, when someone claimed to have seen him in the Syrian military intelligence's 248 Branch prison — which former detainees and human rights groups have called a torture center.
"When someone is martyred, they're buried and you know they're dead," she said, sitting on floor cushions. "In this case, you don't know and you'll always be wondering."
Her husband is among more than 130,000 people believed to have gone missing in Syria since the 2011 uprising against President Bashar Assad that quickly turned into a civil war. Their families, trapped in painful uncertainty for years, might now have reason for hope.
The U.N. General Assembly voted Thursday to form an independent international institution to search for the missing in Syria in both government and opposition-held areas.
The resolution was adopted by the 193-member world body on a vote of 83-11 with 62 abstentions. The countries voting for the resolution included the United States and other Western nations. Syria and key allies Russia, Iran, and China opposed the move. Arab countries that in recent months rekindled ties with Damascus abstained, except for Assad skeptics Qatar and Kuwait, which endorsed the move.
Some of the missing are believed to be languishing in government prisons. Others were taken by non-state armed groups. Others are buried in mass graves, which have been found on both sides of the front line.
The newly created institution would collect information from families, Syrian civil society organizations, whistle blowers, U.N. agencies and through inquiries to the Syrian government and authorities in opposition-held areas.
The resolution gives three months for U.N. officials to set up the institution's structure and start recruiting staff.
There have been long-standing demands to investigate the fate of the missing, from the families and from human rights activists.
Hanny Megally, a member of a commission set up by the U.N. in 2011 to investigate human rights violations in Syria, said he hopes a single team focusing on the missing could encourage more whistle blowers to come forward, and could collect scattered data from rights groups.
In recent years, whistle blowers and defectors have come forth with some information, including the so-called Caesar photos, a trove of 53,000 images taken in Syrian prisons and military hospitals. The photos showed the bodies of detainees with signs of torture.
A video shot in the Damascus suburb of Tadamon in 2013 revealed the fate of dozens of Syrians who went missing. The video showed Syrian security agents leading blindfolded men into a pit, shooting them and setting the bodies on fire.
The Caesar photos allowed some families to identify missing loved ones. The leak also enabled European courts to try and convict former Syrian military officers who were seeking asylum in European countries for their involvement in forced disappearances and torture.
Setting up an international body would be a significant move in a region scarred by war, where tens of thousands of families in neighboring countries are waiting for information about their loved ones.
In Lebanon, family members of some 17,000 people kidnapped by sectarian militias during its 1975-1990 civil war are dying of old age, never knowing the fate of their loved ones. In Yemen, despite recent prisoner swaps between Saudi Arabia and Iran-backed Houthi rebels, human rights groups say hundreds are still missing.
In Iraq, over 43,000 people remain missing since a U.S.-led invasion in 2003 toppled dictator Saddam Hussein, followed by a ferocious civil war and the rise of the Islamic State extremist group. The UN set up an investigation in 2017 into human rights abuses by the militant group, including enforced disappearances, which led to the discovery of over a dozen mass graves.
Setting up an investigative body for Syria's missing "might set a precedent for addressing the suffering of different people in different parts of the world," said Wafa Mustafa, whose father Ali disappeared in July 2013 in Damascus. Mustafa had joined her father, an outspoken Assad critic, in protests.
Mustafa, who welcomed the vote, is one of many Syrian civil society activists who have spent years campaigning for international action on the missing.
Investigating their fate should also pave the way for addressing other human rights issues in Syria, including the dire conditions for political prisoners. "A lot should be happening, a lot should be done in parallel to this institution," Mustafa said.
In the Kurdish-held city of Qamishli in northeast Syria, Hamed Hemo believes that an investigation could uncover the fate of his missing son.
Hemo has turned his living room into a shrine for his son, Ferhad, a journalist who went missing after IS militants kidnapped him and a colleague, Masoud Aqil, in 2014. Aqil, released in a prisoner swap, relocated to Germany. Ferhad never came home.
"To this day our lives have completely changed," Hemo said, taking a drag from his cigarette. "His mother once weighed 70 kilos (154 pounds), and she's dropped to 40 (88 pounds)."
Islamic State's so-called "caliphate" once stretched across large areas of Syria and Iraq, but the extremists lost their last hold on the land in 2019.
Thousands of captured IS fighters are held in prisons run by Kurdish-led forces who Hemo believes could provide information about the missing.
Umm Mohammad is less hopeful of getting information about her husband from Syrian authorities.
Assad has denied holding political prisoners, labeling the opposition as terrorists. Direct cooperation with Syria by investigators could also be difficult as it does not extradite its citizens.
"What's he going say?" she wondered. "All those people I detained were killed under my custody?'"
– Kareem Chehayeb and Ghaith Al-Sayed, AP News