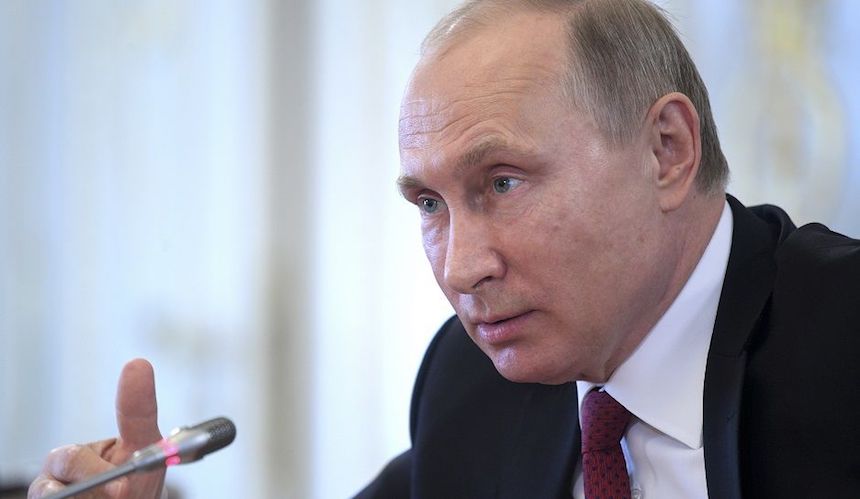 In a surprising shift, President Vladimir Putin for the first time admitted publicly that Russian hackers may have meddled in the 2016 U.S. elections. He said, however, that the hackers were not Russian government employees but rather "patriotically minded" private Russians. Putin made his comments in an interview with the French newspaper Le Figaro.
Moving away from his past blanket denials of any Russian interference in the U.S. election, Putin said that the Russian hackers could have taken it upon themselves to try and influence the 2016 U.S. election, saying that hackers "are like artists" who make decisions on who to target depending on how they feel on any given day.
"If they are patriotically minded, they start making their contributions – which are right, from their point of view – to fight against those who say bad things about Russia," he said.
Putin continued to insist, however, that the Kremlin was not directly involved with any hacking efforts.
"We're not doing this on the state level," he said.
The U.S. intelligence community, and Western intelligence services more generally, have collected voluminous, and incontrovertible, evidence, based on both signal and human intelligence, that hackers and disinformation specialists working for the GRU and the FSB – Russia's military and domestic intelligence services, respectively – have launched a broad disinformation and hacking campaign last year in order to ensure that Donald Trump, the Kremlin's preferred candidate, would win the presidential election.
The GRU's and FSB's hackers followed the same disinformation-and-hacking template in in interfering in the elections in France, Montenegro, and the Netherlands, and in political referenda in Sweden (on Sweden's relationship with NATO) and the United Kingdom (Brexit).
Russia is now actively supporting the efforts of the far-right, Nazi-sympathetic AfD to elect some of its members to the Bundestag in the September election in Germany.
These Russian government hackers and disinformation specialists have actively – both overtly and covertly — supported right-wing, ethno-nationalist, and populist parties and movements like Front National in France, Golden Dawn in Greece, Ataka in Bulgaria, Jobbik in Hungary, UKIP in Britain, and AfD in Germany. All the parties and movements Russia supports are on the extreme-right fringes in their countries, and all share opposition to Muslim immigration, and support distancing their countries from the EU, NATO, and the United States, as well as withdrawing from international agreements and treaties – on trade, the environment, human rights — in favor of more nationalist, and less "globalist," policies – and specifically more pro-Russian policies.
The New York Times notes that the U.S. intelligence community concluded in January that Putin had personally directed a Russian "influence campaign" which included cyberattacks and the dissemination of false information in order to help Trump's campaign.
The Times says that the Russian leader seemed aware of the possibility that the United States could release evidence showing the direct link of the 2016 cyberattacks and disinformation campaign to the Russian government, and was trying to get ahead of such disclosures by saying that digital technology can be manipulated. If done, a falsified trail could be made to lead back to the Kremlin.
Putin offered a line of argument which had been offered by several Trump supporters, who tried to exonerate Russia of any interference in the 2016 U.S. election. For example, John Bolton, the former UNambassador, said the U.S. intelligence community's conclusion that Russia was behind the hacking and disinformation campaign may have been the result of the intelligence community's failure to recognize that what they were probing was a "false flag" operation.
Putin said: "I can imagine that someone is doing this purposefully — building the chain of attacks so that the territory of Russian Federation appears to be the source of the attack," Putin said. "Modern technologies allow to do that kind of thing, it's rather easy to do."
Putin added: "I think that he [Trump] was totally right when he said it could have been someone sitting on their bed or somebody intentionally inserted a flash drive with the name of a Russian national, or something like that," Putin told Le Figaro, referring to Trump's statement during one of the presidential debates that the hacking of the DNC and the Clinton campaign could have been the work of a 400-pound man sitting on his bed in the basement somewhere. "Anything is possible in this virtual world. Russia never engages in activities of this kind, and we do not need it. It makes no sense for us to do such things. What for?"
Analysts noted that Putin, a crafty and cagey former KGB senior officer, should have chosen his words more carefully in order to make his case that the Russian hackers who meddled in the U.S.2016 election were not acting on the orders of the Russian government. Russia, and Putin himself, routinely describe the Russian soldiers who fight, under Russian military command, along the pro-independence Ukrainians rebels against the Kiev government as "patriotically minded" or "patriotically motivated" "volunteers" or "private Russians."
This article is published courtesy of Homeland Security News Wire.