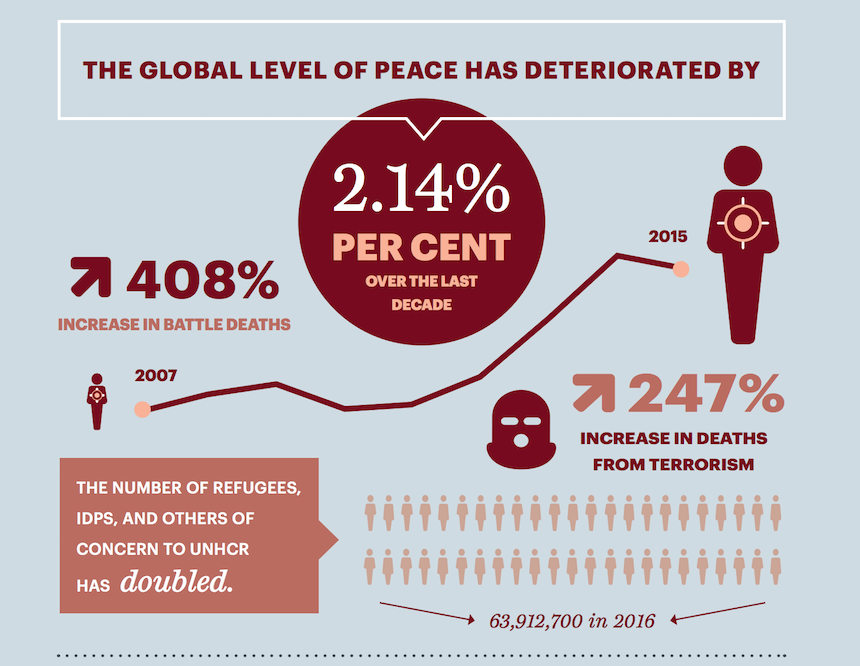 Worldwide terrorism is at an all-time high, with the cost of violence to the global economy rising to $14.3 trillion last year. The impact of violence in the United States reached $2.5 trillion.
These and other figures from the 2017 edition of the Global Peace Index show that world peace has been deteriorating for the past decade, a trend driven by terrorism and armed conflicts in the Middle East and Northern Africa.
The Institute of Economic and Peace, under whose auspices the annual index is being produced, said the study shows that the recent decline interrupts long-term and steady improvements the world had experienced since the end of the Second World War.
The annual number of terrorism incidents has almost tripled since 2011. Deaths from terrorism have risen more than 900 percent since 2007 in the thirty-five countries which are members of the Organization for Economic Cooperation and Development. Of these members, twenty-three countries – including Denmark, Sweden, France, and Turkey — experienced terrorism related deaths over the past year.
The United States has moved down 11 places in the study's country ranking, and it is now occupying the bottom spot among developed countries. The Index researchers note that the lower U.S. position – meaning that the United States has become less peaceful and more violent – is the result of a significant rise of internal conflict owing to political polarization. Also, the homicide rate has gone up in several some cities, and measures of the impact of terrorism included the effects of several attacks, including a shooting at the Pulse club in Orlando, Florida, in which forty-nine people died.
The Index says that the economic impact of violence in the United States equals $2.5 trillion, or 9 percent of the U.S. gross national product. This cost comes to about $5,000 per person.
Of the 163 countries and territories ranked by the Index, Syria occupies the last spot – meaning it is the least peaceful country on earth.
Across the Middle East, "battle deaths from conflict are at a 25-year high, and the number of refugees and displaced people are at a level not seen in sixty years," the Institute said.
Worldwide, deaths from terrorism increased by 80 percent from last year. The intensity of terrorism also increased, with eleven countries last year losing more than 500 people each to terrorist acts. Only five countries experienced that kind of death toll the year before.
The majority of terrorist activity was concentrated in five countries: Iraq, Nigeria, Afghanistan, Pakistan, and Syria.