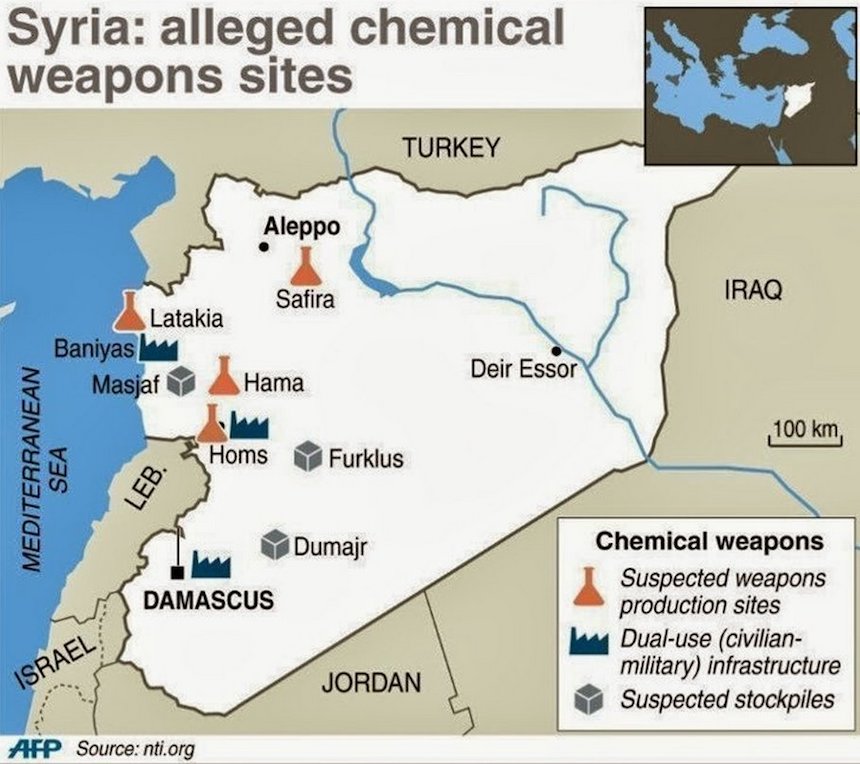 The Israeli air force Thursday morning attacked and destroyed a chemical arms plant in in Syria. The Syrian military confirmed that Israel had attacked what a Syrian spokesman described as "a military facility," adding that two people were killed and that "extensive damage" to the facility was caused.
Israel, keeping to its policy in such instances, refused to offer any comments in the incident.
The Financial Times reports that a Syrian military communique said at 2:40 A.M. Israeli military planes struck the site – noting that the planes fired several missiles at the Syrian facility from the west, while flying in Lebanese airspace.
The Syrian statement warned of the "dangerous repercussions of such hostile acts on the security and stability of the region."
Syrian opposition sources said that four Israeli warplanes took part in the attack.
Media reports said that Israel had destroyed the Scientific Studies and Researchers Center facility near the city of Masyaf in central Syria, where Syria has been working on developing of chemical weapons. Witnesses said that large plumes of smoke were wafting over the area for hours after the attack.
The attacks appear to have targeted two other facilities: a large military storage camp next to the scientific center. The storage camp was used to store ground-to-ground rockets. The second facility attacked a weapons factory that develops arms for the Syrian regime and for Hezbollah.
The former head of Israel's Military Intelligence, Gen. Amos Yadlin, tweeted that the Israeli attack "was not routine." He noted that the site "produces chemical weapons and explosive barrels that have killed thousands of Syrian civilians."
"The attack is finally an Israeli moral statement about the massacre in Syria," Yadlin said.
Since the beginning of the uprising against the Assad regime, Israel has attacked convoys delivering advanced weapon systems from Iran and the Assad regime to Hezbollah. Last week, Maj. Gen. Amir Eshel, the outgoing commander of the Israel Air Force, told Haaretzthat since 2012, the number of Israeli attacks on these military convoys since 2012 is approaching triple digits.
This was the first time a high-level Israeli official has confirmed the scope of Israel's attacks.
Thursday's attack was the first Israeli strike against a military facility in Syria since a cease-fire was reached in southern Syria in July (there have been, however, low-level border skirmishes between Israel and units of Assad army). Israel bitterly complained that the cease-fire agreement negotiated between the United States and Russia ignored acute Israeli security concerns.