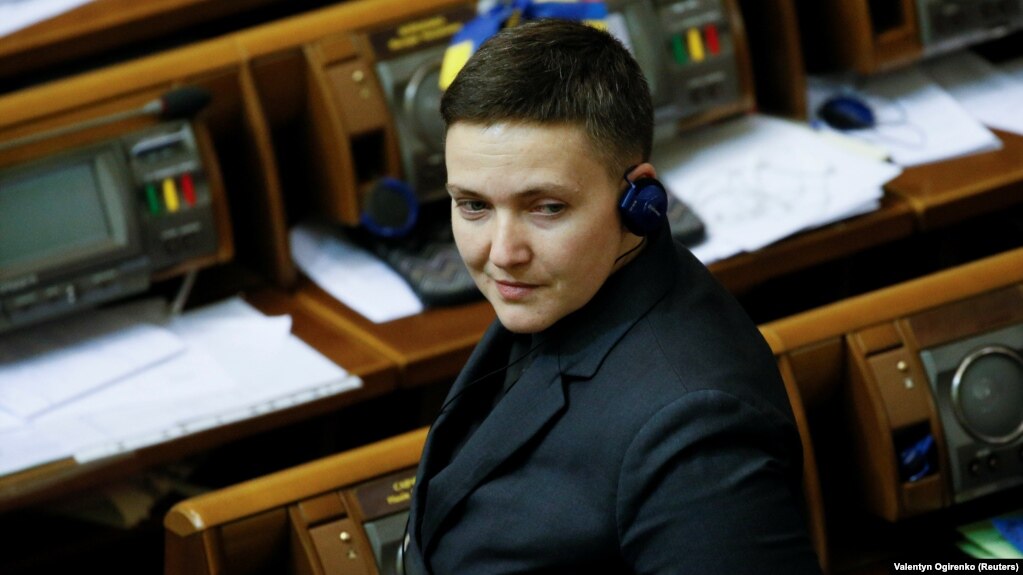 Less than two years after being celebrated in Ukraine for her defiance toward Russian captors as a prisoner of war, opposition lawmaker Nadia Savchenko is defending herself against accusations that the former military aviator was planning a terror attack on the Ukrainian parliament.
Ukrainian Prosecutor-General Yuriy Lutsenko alleged on March 15 that the state has "irrefutable proof" that Savchenko "planned, personally recruited, and personally gave instructions about how to commit a terrorist act" in parliament using grenades, mortars, and automatic weapons.
The fervidly patriotic Savchenko was detained by officials as she entered the parliament, the Verkhovna Rada, allegedly concealing a gun and three grenades in her purse.
"All Ukrainians dream of blowing up Bankova Street" — where President Petro Poroshenko's office stands — "the parliament, and the cabinet," Savchenko said on March 20. "I am dreaming to change the situation without explosions."
The charges are the latest in a string of events that have sullied the public image of Savchenko, who made a heroic return to Kyiv in May 2016 from two years of imprisonment in Russia, where she was unbending in the face of what were widely seen as trumped-up charges against her.
She was warmly embraced by Ukraine's political elite, welcomed in European capitals, and viewed as a potential presidential candidate.
But bold statements (she said Ukraine should become a kind of dictatorship) and unpopular stands (she suggested Ukraine give up Crimea in exchange for the return of separatist territory in the eastern part of the country known as the Donbas) coupled with erratic behavior (she met covertly with pro-Russia leaders in Luhansk and Donetsk) have caused her popularity in Ukraine to plummet and left her an outcast in the Verkhovna Rada.
"No one has friends in parliament," Savchenko told RFE/RL on March 21. "Politicians do not make friends with each other; they use each other."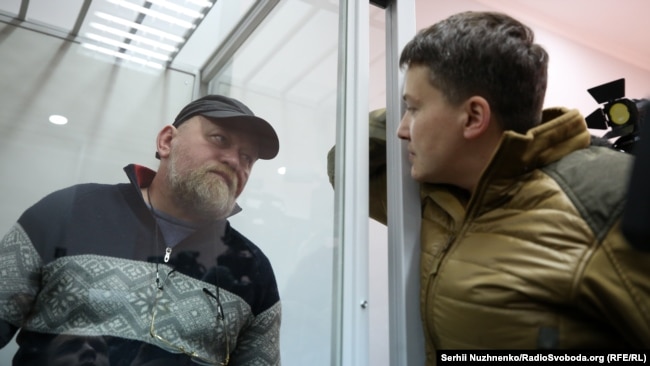 Savchenko would neither confirm nor deny the reports that she carried the weapons into parliament, saying she would only discuss the matter while taking a "lie-detector test" that was broadcast on television.
Although she denied planning a "terrorist" attack on parliament, she said she had "deliberately discussed absurd plans of a coup attempt and terrorist attacks against high-ranking officials" earlier on March 20 when she was interrogated by the Ukrainian Security Service (SBU).
On the same day, the Verkhovna Rada passed a regulation that forbids anyone but security officials from carrying arms into government buildings.
The parliament also voted to remove Savchenko from the National Security and Defense Committee and will vote on March 22 on whether to remove her parliamentary immunity, arrest her, and charge her with any crimes. (Parliament voted on March 22 to remove her immunity and she was detained by security officials.)
"Unfortunately, all politics in Ukraine has become frivolous and ridiculous," said Savchenko. "There is some stealing and some criminal activity as well, but primarily [government actions result in] laughter. [Ukrainians] have stopped taking the courts and law enforcement bodies seriously because so many lawsuits in Ukraine look so ridiculous."
Savchenko spoke disparagingly of fellow lawmakers after word spread that she was carrying weapons.
"I've never seen such frightened eyes in parliament! I did not see them when the police fought against the people [during the Euromaidan protests that prompted pro-Moscow President Viktor Yanukovych to flee in 2014], when blood was pouring. I did not see such eyes when there were reports of shelling in the cities in the Donbas and problems on the front line…. How scared they were, how they fled the parliamentary chamber."
Savchenko also defended Volodymyr Ruban, who was arrested on March 8 and charged with planning to kill Poroshenko and other top government officials.
Ruban — who has long worked to arrange prisoner exchanges in the Donbas — was allegedly driving a truck from a separatist-controlled part of eastern Ukraine that was carrying an array of weapons that investigators say were going to be used against Ukrainian officials.
Savchenko said it is possible that Ruban was moving "the enemy's weapons from the other side" as part of a special operation for Ukraine.
She concluded that the "story with the court" will "be brought to the point of absurdity," saying that "the authorities want to be funny, so the authorities will be funny. It's good for the country!"
Written by Pete Baumgartner based on an interview by RFE/RL Russian Service correspondent Dmitry Kirillov