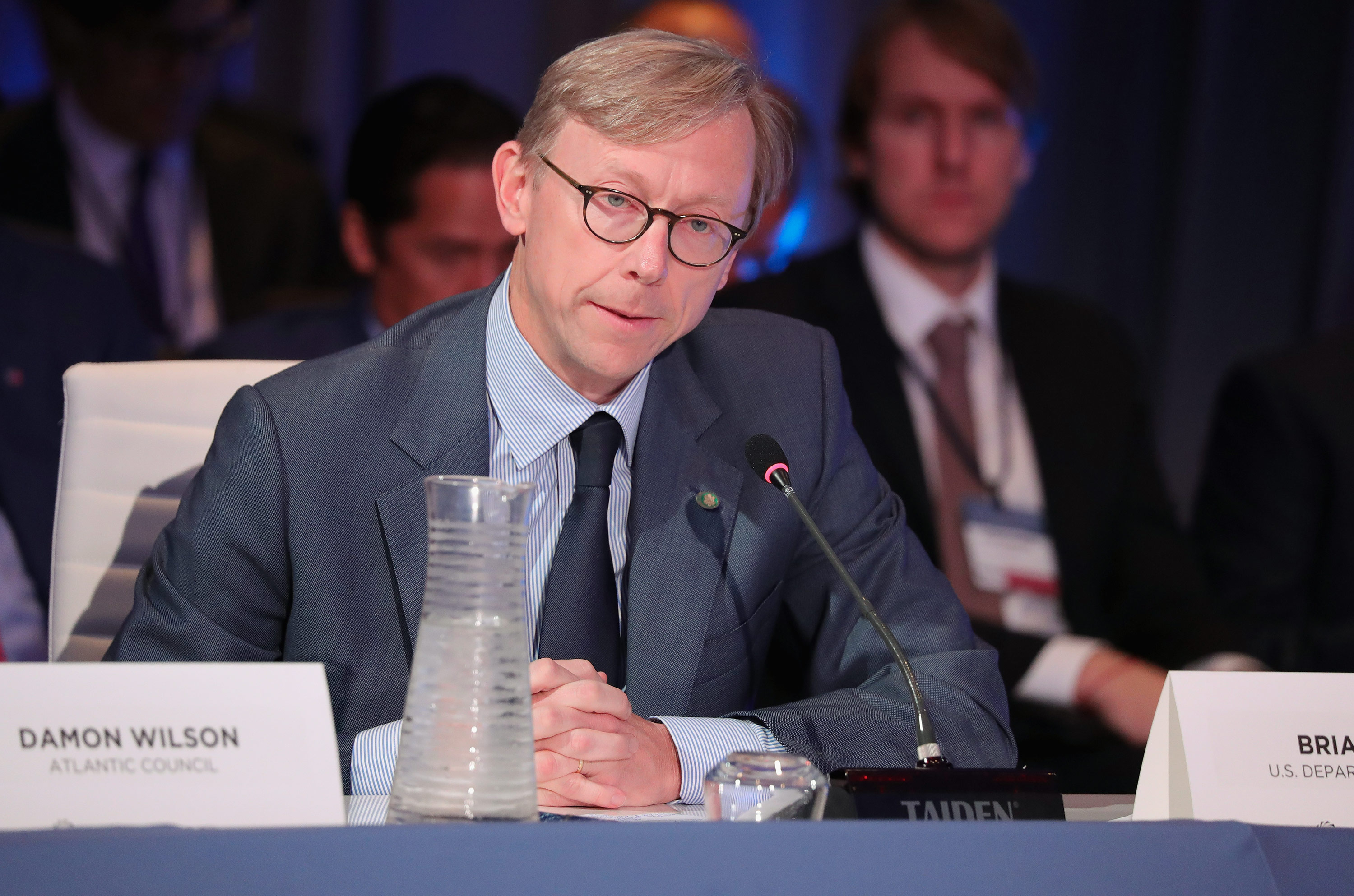 The United States has had "constructive" talks with France, Britain, and Germany about creating a side agreement to the Iran nuclear deal but is making contingency plans should the effort fail, the lead U.S. negotiator has said.
"We have had constructive talks with the Europeans towards a supplemental agreement, but I can't predict whether we will reach an agreement with them or not," Brian Hook, a U.S. State Department policy director and lead U.S. negotiator, told reporters on March 21.
"We are engaged in contingency planning," Hook said, without elaborating. "We are kind of dual tracking this."
U.S. President Donald Trump has called on the European powers to "fix" what he has called "the terrible flaws" of the 2015 nuclear deal or he will refuse to extend U.S. sanctions relief for Iran as required under the deal in exchange for curbs on Iran's nuclear activities.
Trump has laid down a May 12 deadline for reaching an agreement with the Europeans, which are among the six world powers that signed the deal negotiated by Trump's predecessor Barack Obama.
For the European powers, diplomats said Trump's ultimatum presents a dilemma as U.S. negotiators have been unable to guarantee that, even if they meet all of Trump's demands, Trump won't still decide to walk away from the nuclear agreement.
'Three Defects'
Trump is seeking to remedy what he sees as three defects in the deal: its failure to address Iran's ballistic missile program, its restrictions on when international inspectors can visit suspected Iranian nuclear sites, and "sunset" clauses which allow key curbs on Iranian activities such as uranium enrichment to expire after 10 years.
Aides said Trump has threatened the pull the United States out of the nuclear agreement if all three of his criticisms are not addressed.
Hook said that, if there's no agreement with the Europeans by May, Trump will certainly withdraw. If there is an agreement, he said Trump's advisers will present it to him.
"Then he will make a decision on whether he wants to remain in the deal," Hook told reporters during a conference call on March 21.
Diplomats said Trump's ultimatum puts some of America's closest allies in the uncomfortable position of trying to anticipate what is likely to satisfy Trump, even as they resent his demand to tinker with the nuclear deal in the first place.
The European nations only begrudgingly agreed to negotiate a side deal after it became clear that placating the U.S. president was the only way to salvage the nuclear deal, they said. Iran has objected to any changes in the nuclear pact.
Moreover, diplomats said differences have arisen between European allies and the United States over such issues as whether to address both medium and long-range ballistic missiles in the side deal.
'Opaque Economy'
Hook acknowledged that Iran is technically complying with the nuclear agreement as it was written.
However, he repeated the Trump administration's view that Iran is violating the deal's preamble, which expressed the "expectation" that the agreement's "full implementation…will positively contribute to regional and international peace and security."
Iran and Russia have argued that the "expectation" mentioned in the preamble does not amount to a binding commitment on Iran's part.
Iran, moreover, argues that it is not receiving the full benefits of sanctions relief mandated by the deal because big banks have continued to shy away from doing business with Tehran for fear of falling foul of U.S. sanctions not related to the nuclear deal.
Hook rejected this argument.
"Iran's opaque economy makes it hard for investors to know whether they're supporting commerce or supporting terrorism," he said. "Iran needs to stop sponsoring terrorism and overhaul its banking and business sectors."
He also dismissed Iranian concerns that Trump has yet to approve licenses for Western aircraft companies to sell planes to Iran as envisioned under the deal.
"I said to them, you use your commercial airlines to move terrorists and weapons around the Middle East, including to Syria, and we will not issue licenses at the expense of our national security," Hook said.
European planemaker Airbus and its U.S. rival Boeing have agreed to sell 180 jets to renew the aging fleet of Iranian state carrier IranAir. But the deal depends on getting U.S. support and licenses.
RFE/RL. With reporting by AP and Reuters