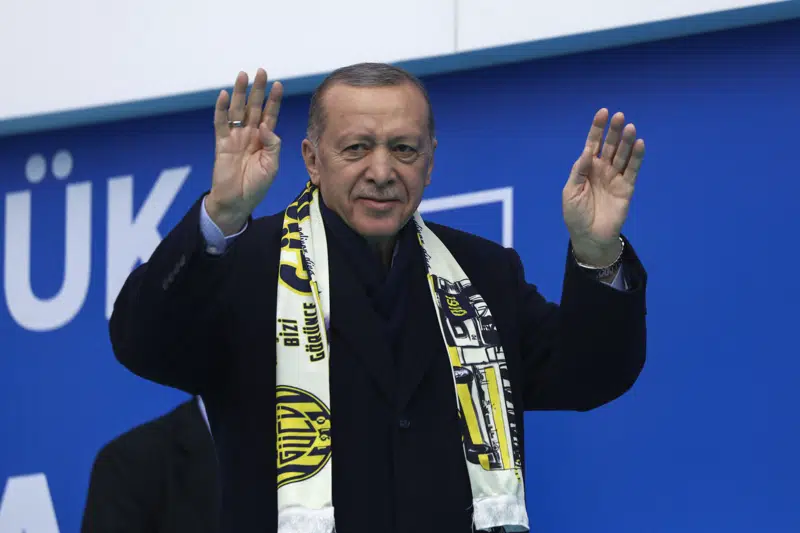 The leader of the Islamic State group was killed in an operation by Turkish intelligence teams in northern Syria, Turkish President Recep Tayyip Erdogan announced. Turkey's state media said the IS leader blew himself up to avoid capture.
Recep Tayyip Erdogan told TRT Turk television in an interview late Sunday that the IS leader known as Abu Hussein al-Qurayshi died on Saturday, following a lengthy pursuit by the Turkish intelligence agency, MIT.
"We will continue our struggle against terrorist organizations," Erdogan said in the interview, without elaborating. The Islamic State group has so far not confirmed the death of its leader.
A member of the Turkish-backed Syrian opposition forces' military police told The Associated Press that the MIT clashed with IS militants on a farm in the village of Miska in Aleppo province late Friday night. As the fighting intensified, al-Qurayshi, who was hiding in a building on the farm, blew himself up, the military police member said. He spoke on condition of anonymity because he was not authorized to comment to the media.
Turkey's state-run Anadolu Agency said as the Turkish agents closed in on him after afour-hour operation, al-Qurayshi detonated his suicide vest. The IS leader was at a house with an underground bunker in the Jinderes region and did not respond to calls for him to surrender, the agency said, quoting unnamed security officials.
After Turkish agents broke into the building, al-Qurayshi blew himself up realizing he would be caught, the report said. Anadolu added that al-Qurayshi had been frequently on the move.
Turkey has conducted numerous operations against IS militants and Kurdish rebels in Syria's border areas. Turkey controls large swaths of territory in northern Syria, following several land incursions to drive Kurdish groups away from the border.
IS has carried out a string of deadly attacks in Turkey, including a shooting at an Istanbul night club on Jan. 1, 2017 which killed 39 people during New Year celebrations.
Abu Hussein al-Qurayshi was named IS leader after its previous chief was killed in October. He took over at a time when IS had long lost control of the territory it once held in Iraq and Syria. However, IS has been been trying to rise again, with sleeper cells carrying out deadly attacks in both countries.
Islamic State founder Abu Bakr al-Baghdadi was hunted down by U.S. forces in a raid in northwest Syria in October 2019. His successor, Abu Ibrahim al-Hashimi al-Qurayshi, was killed in a similar raid in February 2022.
He was followed by Abu al-Hassan al-Hashimi al-Qurayshi, who according to the U.S. military was killed in mid-October in an operation by Syrian rebels in Syria's southern province of Daraa, after which the latest leader took over, Abu Hussein al-Qurayshi.
None of the al-Qurayshis are believed to be related. Al-Qurayshi is not their real name but comes from Quraish, the name of the tribe to which Islam's Prophet Muhammad belonged. IS claims its leaders hail from this tribe and "al-Qurayshi" serves as part of an IS leader's nom de guerre.
The Islamic State group broke away from al-Qaida more than a decade ago and ended up controlling large parts of northern and eastern Syria as well as northern and western Iraq. In 2014, the extremists declared their so-called caliphate, attracting supporters from around the world.
In the following years, they claimed attacks throughout the world that killed and wounded hundreds of people before coming under attack from different sides. In March 2019, U.S.-backed Syrian fighters captured the last sliver of land IS once held in Syria's eastern province of Deir el-Zour bordering Iraq.
– Suzan Fraser and Abby Sewell, AP News