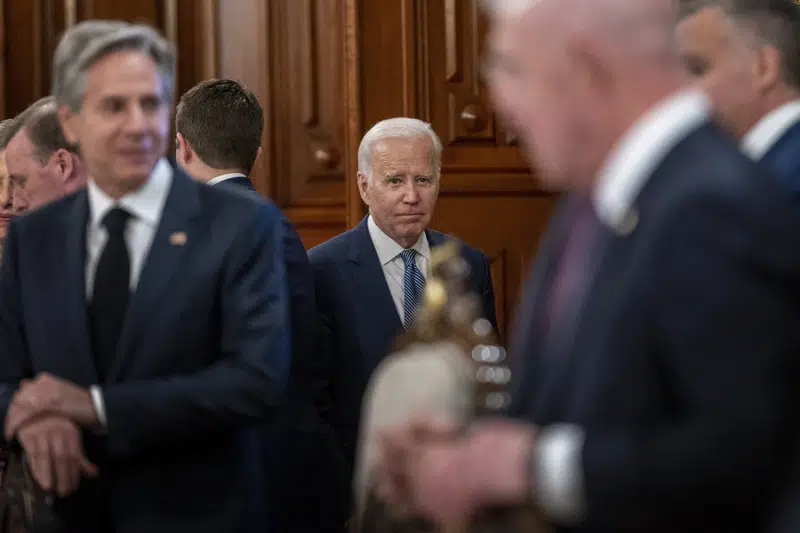 President Joe Biden, Mexican President Andrés Manuel López Obrador and Canadian Prime Minister Justin Trudeau are meeting for a series of talks on migration, trade and climate change on Tuesday as the three leaders try to mend tensions that have divided the continent.
The three-way gathering is held most years, although there was a hiatus while Donald Trump was U.S. president. It's often called the "three amigos summit," a reference to the deep diplomatic and economic ties among the countries.
However, the leaders still found themselves at odds, especially as they struggle to handle an influx of migrants and to crack down on smugglers who profit from persuading people to make the dangerous trip to the United States.
In addition, Canada and the U.S. accuse López Obrador of violating a free trade pact by favoring Mexico's state-owned utility over power plants built by foreign and private investors. Meanwhile, Trudeau and López Obrador are concerned about Biden's efforts to boost domestic manufacturing, creating concerns that U.S. neighbors could be left behind.
The key takeaways from the summit revolve around better connections among the three nations and a shared goal of a stronger North America on energy and in particular semiconductors, climate and a pledge to cut methane emissions, an agreement to manage large waves of migrants coming to the region and a more cohesive regional strategy on dealing with future pandemic-related health threats.
The centerpiece of the summit will be hours of talks with all three leaders, but Biden will start Tuesday with a meeting with Trudeau. It's unlikely to be as contentious as his sit-down with López Obrador on Monday.
During that meeting, the Mexican leader challenged Biden to improve life across the region, telling him that "you hold the key in your hand."
"This is the moment for us to determine to do away with this abandonment, this disdain, and this forgetfulness for Latin America and the Caribbean," Lopez Obrador said.
Biden responded by pointing to the billions of dollars that the United States spends in foreign aid around the world, saying that "unfortunately our responsibility just doesn't end in the Western Hemisphere."
It was a noticeably sharp exchange after the two leaders had smiled and embraced and shaken hands for the cameras.
Biden and López Obrador haven't been on particularly good terms for the past two years. The Mexican leader made no secret of his admiration for Trump, and last year he skipped a Los Angeles summit of the Americas because Biden didn't invite the authoritarian regimes of Cuba, Venezuela and Nicaragua.
However, there have been attempts to thaw the relationship. Biden made a point of flying into the new Felipe Angeles International Airport, a prized project of the Mexican president even though it's been a source of controversy.
The airport, which is expected to cost $4.1 billion when finished, is more than an hour's drive north of the city center, has few flights and until recently lacked consistent drinking water. However, it's one of the keystone projects that López Obrador is racing to finish before his term ends next year.
The U.S. and Mexico have also reached an agreement on a major shift in migration policy, which Biden announced last week.
Under the plan, the U.S. will send 30,000 migrants per month from Cuba, Nicaragua, Haiti and Venezuela back across the border from among those who entered the U.S. illegally. Migrants who arrive from those four countries are not easily returned to their home countries for a variety of reasons.
In addition, 30,000 people per month from those four nations who get sponsors, background checks and an airline flight to the U.S. will get the ability to work legally in the country for two years.
On Monday, before the summit began, López Obrador said he would consider accepting more migrants than previously announced.
"We don't want to anticipate things, but this is part of what we are going to talk about at the summit," López Obrador said. "We support this type of measures, to give people options, alternatives," he said, adding that "the numbers may be increased."
Mexico would likely require an increase in those receiving work authorization in the U.S. in order to receive more migrants who are being expelled.
Jake Sullivan, Biden's national security adviser, cautioned that nothing was decided yet.
"What we need is to see how the program announced last week works in practice, what if any adjustments need to be made to that program and then we can talk about taking the next steps," he said.
The number of migrants crossing the U.S.-Mexico border has risen dramatically during Biden's first two years in office. There were more than 2.38 million stops during the year that ended Sept. 30, the first time the number topped 2 million.
Biden is expected to follow up his first trip to Mexico as president with another to Canada, although it has not yet been scheduled.
A senior Canadian official, who spoke on condition of anonymity because they were not authorized to discuss the matter publicly, said Canada is working with Americans on a visit in the near future.
– Colleen Long and Christopher Sherman, AP News